The Interim by A.J. Adaire
Author:A.J. Adaire [Adaire, A.J.] , Date: January 14, 2021 ,Views: 20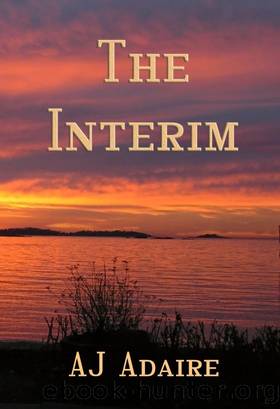 Author:A.J. Adaire [Adaire, A.J.]
Language: eng
Format: epub
Tags: romance, lesbian, transition, contemporary adult, healing after death
Publisher: Desert Palm Press
Published: 0101-01-01T00:00:00+00:00



***
Ren tied up the boat and climbed the steps to the Inn. The first thing she did was go to her studio to call Mallory. "Melanie and I broke up." They were at a point in their relationship that their conversation didn't need a preamble. They just told each other exactly what was on their mind.
"Oh, Ren, I'm sorry. Are you okay about it?"
"Yes, I think so. I like Melanie a lot, but I think she figured out that we are better friends than lovers, and I have to agree with her. I'll miss her presence in my life. She's a wonderful person but, as a couple, there was just something missing."
"Well, you and I both had the best. Our girls are hard acts to follow."
"That's surely the truth."
"Do you think it's weird that I go talk to Piper at the cemetery?"
"Not at all. I go sit by the rocks where we spread Brooke's ashes and talk to her. Sometimes I even feel that she's there with me, or at least that she knows I'm there. It's a comfort."
"Good. I was afraid I was losing it. I always feel better after I talk to you."
"Me too. I'm glad we don't have to go through this alone."
"Will you see Melanie again, or are you severing all ties?"
"Well, we agreed we'd try to remain friends. I'm not sure how that will work, but I'll keep you posted. I'll give you a call in a couple of days. Take care."
"You too."
Download


Copyright Disclaimer:
This site does not store any files on its server. We only index and link to content provided by other sites. Please contact the content providers to delete copyright contents if any and email us, we'll remove relevant links or contents immediately.