The Hunger Games: Official Illustrated Movie Companion by Egan Kate
Author:Egan, Kate [Egan, Kate] , Date: December 30, 2017 ,Views: 613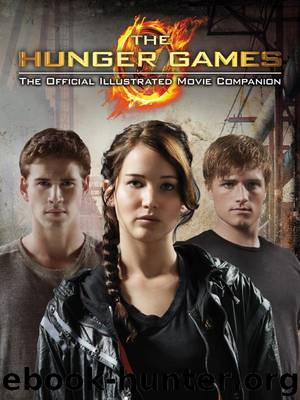 Author:Egan, Kate [Egan, Kate]
Language: eng
Format: epub
Publisher: Scholastic Inc.
Published: 2012-02-07T00:00:00+00:00



Chad Stahelski says, "We took them into the gym and kind of had Romper Room. We trained them to do certain things and to get certain performances out of them. Everybody was game to do everything, but some of the exercises were done with stunt tributes only, for time restraints and, of course, for safety reasons."
"We did some very intense fight training. That's what I was focusing on the most, because that is what Cato is, really," says Alexander Ludwig. "Cato's weapon of choice is a giant steel sword. I like to think I've become very skilled with the sword. . . ."
Isabelle Fuhrman, who plays Clove, adds, "I will say I do know how to throw a knife properly now, which is kind of creepy and a skill that I probably won't use, but it's just fun to say, you know? 'What'd you learn this summer?' 'Oh, I learned how to throw knives.' Just casually."
To prepare for the fight sequences, the stunt coordinators looked to the actors themselves. "It's not like we took any of the tributes and started training them in karate or kickboxing or jujitsu or anything like that," Stahelski points out. "We just took Isabelle or we took Zander [Alexander Ludwig] or we took any of the other ones and found out what they were good at, what character they had. We just kind of took that and ran with it during the big fight sequences, like at the Cornucopia. When you see the struggles between them on film, they're wild and emotional — they feel like kids fighting on the playground. That's the concept Gary wanted, and we took that to the next level when we added the weapons."
All of these preparations were about to come together with the vision of the design team to create one unforgettable film.
Download


Copyright Disclaimer:
This site does not store any files on its server. We only index and link to content provided by other sites. Please contact the content providers to delete copyright contents if any and email us, we'll remove relevant links or contents immediately.