The Guernsey Literary and Potato Peel Pie Society by Shaffer Mary Ann & Annie Barrows
Author:Shaffer, Mary Ann & Annie Barrows [Shaffer, Mary Ann & Annie Barrows] , Date: October 5, 2020 ,Views: 514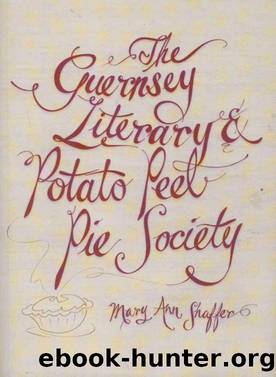 Author:Shaffer, Mary Ann & Annie Barrows [Shaffer, Mary Ann & Annie Barrows]
Language: eng
Format: epub
Tags: Historical Fiction



Your friend,
Isola
From An Animal Lover to Juliet
Wednesday evening
Dear Miss,
I too am a member of the Guernsey Literary and Potato Peel Pie Society—but I never wrote to you about my books, because I only read two—kiddies' tales about dogs, loyal, brave, and true.
Isola says you are coming to maybe write about the Occupation, and I think you should know the truth of what our States did to animals! Our own government, mind, not the dirty Germans!
They would be ashamed to tell of it, but I am not. I don't much care for people—never have, never will. I got my reasons. I never met a man half so true as a dog. Treat a dog right and he'll treat you right—he'll keep you company, be your friend, never ask you no questions. Cats is different, but I never held that against them.
You should know what some Guernsey folks did to their pets when they got scared the Germans was coming. Thousands of them quit the island—flew off to England, sailed away, and left their dogs and cats behind. Deserted them, left them to roam the streets, hungry and thirsty—the swine!
I took in as many dogs as I could gather up, but it wasn't enough. Then the States stepped in to take care of the problem—and did worse, far worse. The States warned in the newspapers that, because of the war, there might not be enough food for humans, much less for animals. "You may keep one family pet," they said, "but the States will have to put the rest to sleep. Feral cats and dogs, roaming the island, will be a danger to the children."
And that is what they did. The States gathered them animals into trucks, and took them to St. Andrews Animal Shelter, and those nurses and doctors put them all to sleep. As fast as they could kill one truck load of pets, another truck load would arrive. I saw it all—the collecting, the unloading at the shelter, and the burying.
I saw one nurse come out of the shelter and stand in the fresh air, gulping it down. She looked sick enough to die herself. She had herself a cigarette and then she went back on in to help with the killing. It took two days to kill all the animals.
That's all I want to say, but put it in your book.
Download


Copyright Disclaimer:
This site does not store any files on its server. We only index and link to content provided by other sites. Please contact the content providers to delete copyright contents if any and email us, we'll remove relevant links or contents immediately.