The Golden Lad: The Haunting Story of Quentin and Theodore Roosevelt by Eric Burns
Author:Eric Burns [Burns, Eric] , Date: August 1, 2020 ,Views: 253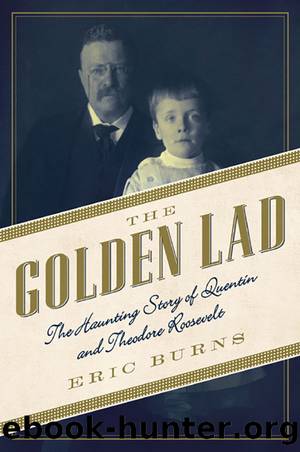 Author:Eric Burns [Burns, Eric]
Language: eng
Format: azw3
Publisher: Pegasus
Published: 2016-02-14T16:00:00+00:00



22
NINETEEN-ELEVEN, THE YEAR OF the treaty, was also the year when the Roosevelts celebrated their silver wedding anniversary. Some of the family gathered for the occasion on December 2, then the whole of them assembled for a Sagamore Hill Christmas three weeks later, renewing congratulations for the twenty-five years of marriage, celebrating another of many family reunions.
The ex-president was in tolerable spirits for the occasion, observing the season in part by putting aside, as much as his grudge-holding nature would allow, his ill feelings toward Taft. But another negative feeling crept in to take its place, and an unaccustomed one for Roosevelt: a certain melancholy. It was the grandest time of the year, or was supposed to be, and had always been in the past. This year, though, with his children grown but unmarried—or, in Alice's case, married but childless—there were no little ones running around the house wildly, squealing with anticipation, tearing open gifts, arguing with one another about Santa's treatment of them and then making up and then fighting and making up again, swapping their gifts and then swapping them back. What, Theodore asked himself, was Christmas without tots? Without noise, confusion? Where was the festive in the festivities? The loneliest times are the ones that have in the past led to the most rejoicing.
One evening after dinner, the family was standing in the North Room, the largest in the house, everyone with a drink of one sort or another in hand. Roosevelt looked around at his loved ones, his eyes for the moment as lifeless as those of his animal heads. He did not speak until a lull finally came in the conversation, a lull made all the more noticeable because the patriarch made no move to fill it. It seemed that everyone was waiting for him to speak. The season, he finally said, "loses some of its fine edge when the youngest child is a boy a half inch taller than his father!" Quentin smiled, but uncertainly; like the rest of the family, he was not able to read his father's mood, or understand the reasons leading to it.
Download


Copyright Disclaimer:
This site does not store any files on its server. We only index and link to content provided by other sites. Please contact the content providers to delete copyright contents if any and email us, we'll remove relevant links or contents immediately.