The Girl who Sang with Whales (Islesong Book 1) by Marc Secchia
Author:Marc Secchia [Secchia, Marc] , Date: June 30, 2020 ,Views: 7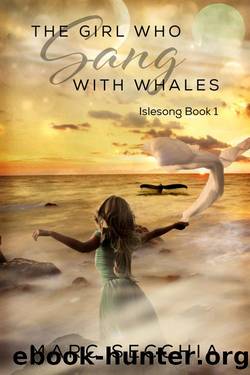 Author:Marc Secchia [Secchia, Marc]
Language: eng
Format: epub
Published: 2013-10-29T00:00:00+00:00



Chapter 17: A Grand Occasion
Song, heartsong, lip-song, eye-song,
One person may sing many songs.
Are all true?
Uhikuí the Minstrel: Understanding Haritioi Atolls Culture
Oh, the feathers! The outlandish seasilk outfits! Music! Refined chatter! Filmy wraps! Gentlemen strutting like pompous torituks in their floor-length, flared capes. A room fit for royalty. A hundred candelabras set about the stately hall to light it with a noonsong sparkle. Compliments, pleasantries, pandering, and politics. Food dressed to resemble works of art.
Zhialeiana felt she had stepped into a make-believe world, where all was for show and nothing was quite what it seemed.
The Grand Harbourmaster was hosting a grand banquet for the rich and famous denizens of Germioi Central Atoll. Apparently, his party was considered the event of the cycle. Most of the servants in his employ had been drafted in, one way or another, to help ensure the event was an eye-popping, glittering, obscenely over-the-top success. Was this just the Rim-Dweller in her speaking? The girl from the tiny island at the end of the world? Even the usually unflappable Duuré, issuing his instructions for the evensong, had muttered something uncomplimentary about the men's outfits costing more than the price of her contract.
How she missed Jerí. Zhialeiana hid a sigh behind her hand. Leaning on her walking stick, she moved back to her station and waited for the next blue-robed servitor to arrive with his list of demands. Jerí would have had the right snide comments to make her laugh. Jerí would have banished her homesickness with one of her silly jokes.
Here came one now.
"Six lime juices, four with sindo liqueur, one double," he rattled off. "Three mango and coconut juices, two sparkling waters, eight of the coconut wine with a twist. The guests are thirsty. Quick as you can."
Zhialeiana busied herself with the crystal glasses, each one of which would have purchased fifty daysongs of her work as a Runner. She supposed she'd been chosen for this job because she could not easily walk anywhere. It helped that she had nimble and steady hands. The actual serving was an art form which appeared to demand a great deal of training and an even greater ability to assume a snooty attitude with the other servants. She endured the man's constant chivvying as she prepared the drinks. She deftly twisted the traditional slice of passion fruit onto the rim of each glass and popped a sweet cherry, which symbolised the Mother's blessing, into the fruit juices, before handing over the full tray.
She eased her leg. Thankfully, it had stopped throbbing so badly–the pain had been keeping her awake nightsongs. But she still needed a stick to stand for longer periods of time or to walk … well, at all.
She dreaded the moment the Grand Harbourmaster would ask when she would be ready for an audition at the Conservatory. Her throat and eyes had recovered. Most of the other cuts and bruises had faded or vanished, apart from the puckered wound on her back–Sethií however was not concerned about that one.
Download


Copyright Disclaimer:
This site does not store any files on its server. We only index and link to content provided by other sites. Please contact the content providers to delete copyright contents if any and email us, we'll remove relevant links or contents immediately.