The Future King's Love-Child by Melanie Milburne
Author:Melanie Milburne [Melanie Milburne] , Date: June 11, 2021 ,Views: 30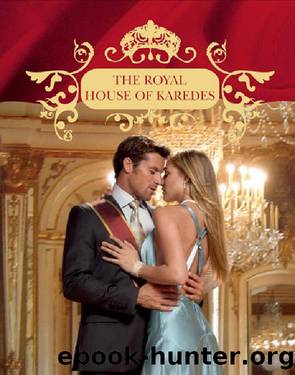 Author:Melanie Milburne [Melanie Milburne]
Language: eng
Format: epub
Tags: Romance
ISBN: 9781408910931
Publisher: Mills & Boon
Published: 2009-06-14T16:00:00+00:00



CHAPTER EIGHT
CASSIE paced the floor of the study where Stefanos had instructed her to wait for Sebastian. Sam was in bed, exhausted, barely putting up a struggle when the elderly but totally competent nanny Eleni had told him she would be babysitting him while his mother was downstairs.
Cassie's nerves felt as if they had been stretched beyond the limit. She was jumpy and agitated, the imposing walls of the luxury villa feeling like prison all over again. Her earlier distress had now turned to anger. As each minute dragged past she felt her rage escalating. Was he doing it deliberately? Making her wait for him like this, reminding her with chilling clarity he had all the power, all the control and all the cold-blooded ruthlessness to do what he wanted?
The door suddenly opened and she swung around. 'What the hell do you think you're doing locking me up in this place?' she railed as Sebastian came in.
Cassie had thought she had the highest score on anger until she saw the white-tipped fury on his face. He was in control but barely. She had never seen him so blisteringly, blazingly angry. His whole body was rigid with it, his hands clenched into tight fists, a pulse beating like a jackhammer in his neck.
'You cold-hearted, deceitful little bitch,' he spat at her malevolently.
Cassie took a step backwards, her voice locking in her throat.
He came up close, so close she had to fight every instinct not to shrink away. 'You lying little whore,' he went on brutally. 'I didn't think even you could go as low as you have gone, using a small, innocent child to cover up each and every one of your despicable lies.'
She swallowed tightly as guilt washed over her in scorching waves.
'It was all a game to you, wasn't it?' he said when she didn't speak.
She closed her eyes to escape the fire of his fury.
'Look at me, damn you!'
She flinched and opened her eyes again, her whole body beginning to shake. 'It wasn't like that…'
'What was it like, then?' he said with a curl of his lip. '"Here is a painting by a little orphan,"' he mimicked her voice. 'God, I could shake you until your teeth rattled for that alone.'
Cassie bit the inside of her mouth until she tasted blood.
'You lied to my face time and time again. How could you use a small innocent child to cover your back like that?'
'I know…' she choked. 'I'm sorry…'
His eyes narrowed to black slits. 'You are sorry? Oh, so that makes it all OK, then, does it, Cassie? You are sorry you forgot to mention you had my son five years ago but everything's rosy now it's all sorted out.' He raked a hand through his hair. 'God, give me strength.'
'I tried to tell you…I tried to but you didn't respond to my letter.'
His glare turned to a frown. 'Letter?' he asked. 'What letter?'
She swallowed tightly. 'I wrote you a letter as soon as I found out I was pregnant.
Download


Copyright Disclaimer:
This site does not store any files on its server. We only index and link to content provided by other sites. Please contact the content providers to delete copyright contents if any and email us, we'll remove relevant links or contents immediately.