The Crown Jewels Boxed Set (A Crown Jewels Romantic Comedy Series) by Melanie Summers
Author:Melanie Summers [Summers, Melanie] , Date: November 23, 2020 ,Views: 12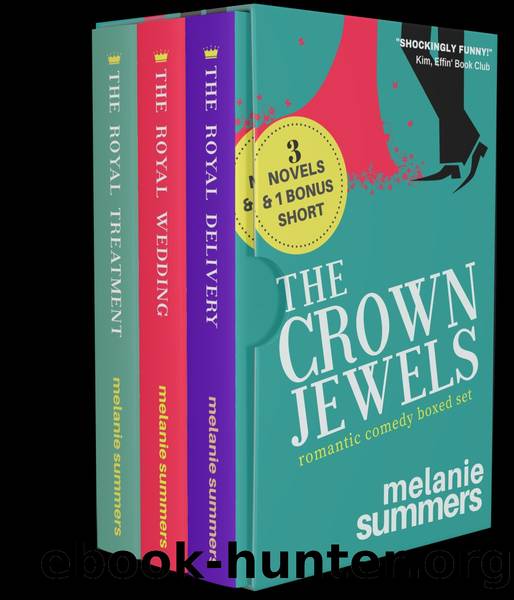 Author:Melanie Summers [Summers, Melanie]
Language: eng
Format: azw3
Publisher: Indigo Group
Published: 2020-04-01T16:00:00+00:00



****
It's almost lunchtime on Thursday, and I'm standing in the boardroom at The Weekly Observer office, staring at the incredible mess I've made. Stacks of photographs cover every inch of the table, the chairs, and the floor, allowing me only a very small space in which to make my way around the table.
I've been working on this project for the last several days now, and there doesn't seem to be an end in sight. Trying to organize these first by year, then by subject is proving to be a hair- pulling experience. It doesn't help that my mind keeps wandering to the massive wedding preparation list I have waiting for me when I get off work every day. Unlike most brides, I need to familiarize myself with twelve different types of forks, spoons, and knives for any dining experience I should find myself in once Arthur and I are married. I also must learn to speak with the eloquence of Grace Kelly, and exactly how one learns to do that, I'm not sure. Then there's dress-fittings with Olivia Paul, finalizing the guest list for the big event, trying to tone my arms (I know, I know, but I still want toned arms), which requires more exercise than I can fit into my schedule. Oh, and I shouldn't forget that with Christmas quickly approaching, I need to find the perfect gifts for my future in-laws, who truly do have everything, on a budget that pretty much only allows for me to make macaroni jewelry for them.
I mean, honestly, what do you buy a woman like Princess Arabella, who can snap her fingers and have any designer in the world appear to make clothing for her? A pair of socks from Old Navy? And it's not like she can use kitchen gadgets or has any need for gardening tools or fancy loose teas.
I open the last box of photos and freeze, a slow smile spreading across my face. I may have just found a way to strike something off my list.
Download


Copyright Disclaimer:
This site does not store any files on its server. We only index and link to content provided by other sites. Please contact the content providers to delete copyright contents if any and email us, we'll remove relevant links or contents immediately.