The Circle of Eight by J. Robert Kennedy
Author:J. Robert Kennedy [Kennedy, J. Robert] , Date: October 19, 2020 ,Views: 5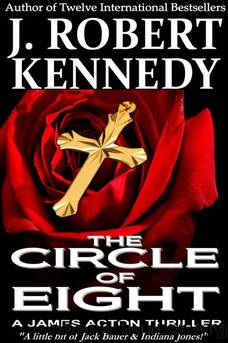 Author:J. Robert Kennedy [Kennedy, J. Robert]
Language: eng
Format: epub
Tags: Fiction, Action & Adventure
ISBN: 9781492333036
Google: XukOnwEACAAJ
Publisher: Createspace Independent Pub
Published: 2013-10-06T16:00:00+00:00



Martin Lacroix Residence, Republic of San Marino
Martin Lacroix was so excited he had almost forgotten to put his robe on, the impromptu meeting he had called of the Circle of Eight about to start. Fortunately his apprentice still had his head in the game, and he was properly cloaked just as the computer beeped to indicate the final Circle member had logged in.
"What is the purpose of this interruption, Number Eight?"
He could hear a slight tinge of annoyance in the usually monotone voice.
"I assure you honored members, that once you hear what I have found, you will remember this day for the rest of your lives. Lives that may, perhaps, be far longer than any of us had ever anticipated possible if the legends are true."
"To what legends are you referring?"
"To the legend that the founder, Dr. Rosenkreuz himself, lived a healthy lifespan three times that of which he should have."
"We are decades away from those types of advancements," said one of the others. "Has there been some new breakthrough?"
"No, nothing of the sort," replied Lacroix. "Something far more spectacular." He paused for effect, then resumed. "But let me start at the beginning."
"Must you?" asked his most regular detractor.
"If you have no desire to hear what will undoubtedly be our generation's greatest contribution to The Circle, you are welcome to crawl into some lonely corner somewhere and die a natural death."
"Proceed," rumbled Number One, this time clearly annoyed.
"Thank you, Master. As you are aware, we have had the first Delta team under surveillance, and as a result, discovered the arrival of a second unit several hours ago. With them were two archeologists."
"Archeologists?"
Number One sounded surprised—something he had never sounded that Lacroix could recall.
"Yes. Professor James Acton, and his fiancée, Professor Laura Palmer. I had a background check done on both, and in reviewing the information, we found this."
He motioned to his apprentice to transmit the image.
"Oh my God!" exclaimed one, then others with their own reactions, all of which were flabbergasted.
"Could it be?"—"It has to be!"—"But we thought it was gone forever!"
"Do we have any idea where it is?" boomed the voice of Number One, excitement lacing his voice, even he unable to apparently control his emotions, some even beginning to sob in excitement.
"No, but this professor must, and he's in Geneva right now."
"Pick him up immediately."
Lacroix smiled.
"I've already given the order."
Download


Copyright Disclaimer:
This site does not store any files on its server. We only index and link to content provided by other sites. Please contact the content providers to delete copyright contents if any and email us, we'll remove relevant links or contents immediately.