The Armor of Light by Scott Melissa & Barnett Lisa A
Author:Scott, Melissa & Barnett, Lisa A. [Scott, Melissa & Barnett, Lisa A.] , Date: April 8, 2021 ,Views: 25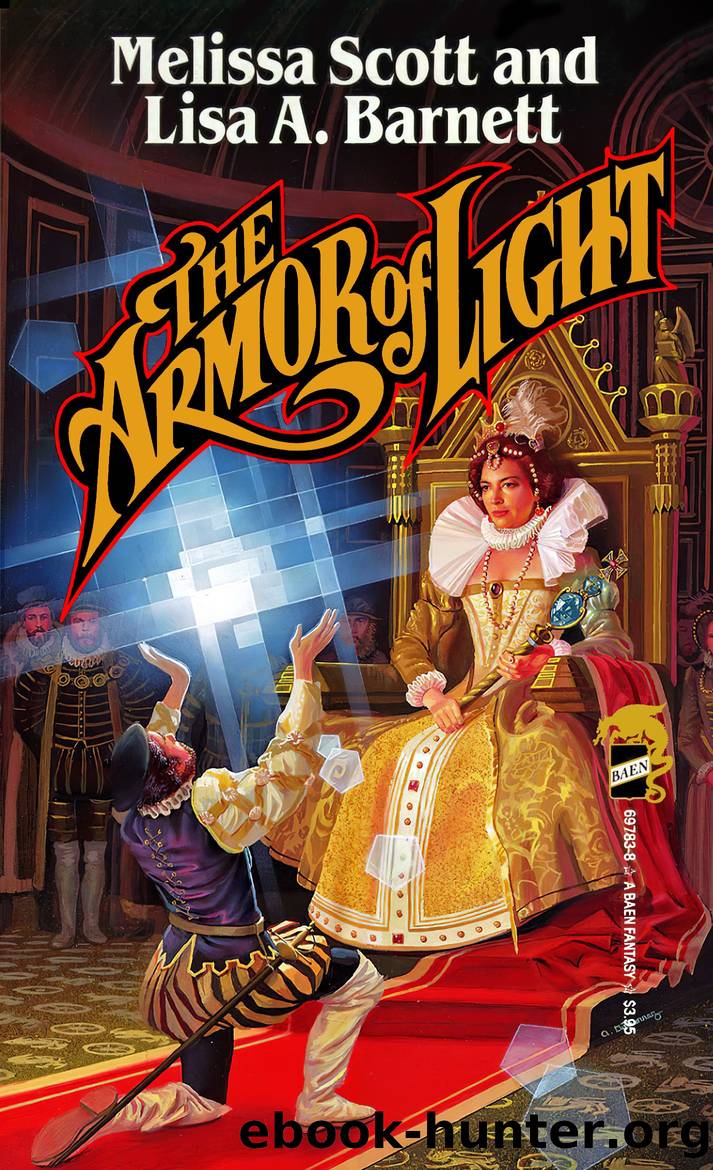 Author:Scott, Melissa & Barnett, Lisa A. [Scott, Melissa & Barnett, Lisa A.]
Language: eng
Format: epub
ISBN: 9780915368297
Google: g-4BAAAACAAJ
Amazon: 0915368293
Goodreads: 836605
Publisher: Nesfa Pr
Published: 1988-10-01T07:00:00+00:00



Chapter Seventeen
I sold apples, and the child took an apple from me, and the mother took the apple from the child; for the which I was very angry. But the child died of the smallpox.
Statement made by Temperance Lloyd before her execution for witchcraft, 1682; quoted in A True and Impartial Relation of the Informations against Three Witches
In the weeks following Sidney's dramatic defense of the king, and despite James's spirited defiance of Melville and all who condemned the presence of the English wizard, the king grew warier. No great rituals, especially of a public or semi-public nature, could be tolerated; Sidney could only do that which was absolutely necessary for the king's safety.
"The man's a fool," Sidney exclaimed, but even here in the privacy of his own rooms, he did not name the man, or raise his voice beyond the conversational. Madox, standing by the door in case of visitors, beckoned discreetly to the page, drawing him out of earshot.
"He's no soldier, he hasn't the least understanding of simple strategy," Sidney continued, and pushed himself to his feet to pace the length of the chamber. Marlowe, lounging in the window seat, started and looked up as he passed, then turned his head away, to stare out across the dry parkland, his mind very obviously elsewhere. Greville grinned.
"Sit down, Philip," he said.
"God's blood," Sidney continued, as though he hadn't heard, "he fears my powers—any display of magic, no matter how well intentioned, no matter how necessary for his own survival, by God!—and I'll swear he fears the magic at hand even more than whatever it is that's abroad."
"You're not doing him justice," Greville said.
Sidney grimaced, but came back up the length of the room, to seat himself in the carved chair that stood beside the unlit fire. "Am I not?"
"No." Greville was still smiling, regarding his friend with unconcealed amusement.
"It's a waste," Sidney said, "a waste of my time and energies to follow him around like—like some black hound, when I could as easily set wards around his chambers, let him sleep without fear. God's name, I'm not some sort of talisman!"
"Obviously his majesty thinks you are," Greville answered, and darted a sly glance at the poet oblivious in the window seat. "He's had plenty of hangers on, and a good many favorites, but I don't think he's ever had a talisman before."
"You're very merry." Sidney gave his friend a sour glance.
Greville shrugged, his smile fading. "And I say again, with no jesting, you do him less than justice, Philip."
Sidney grimaced. "Fulke, he won't let me defend him fully. What am I to think?"
"That he has good reason for his decision," Greville answered. "Think on it. With the papists on one side, offering him their rites to use as he'd use magic, and the presbyters on the other, damning him to hell for so much as uttering a prayer for help instead of repentance, how can he blithely take what you're offering? To do so would be to alienate the
Download


Copyright Disclaimer:
This site does not store any files on its server. We only index and link to content provided by other sites. Please contact the content providers to delete copyright contents if any and email us, we'll remove relevant links or contents immediately.