Terra Preta by Ute Scheub
Author:Ute Scheub , Date: May 6, 2021 ,Views: 50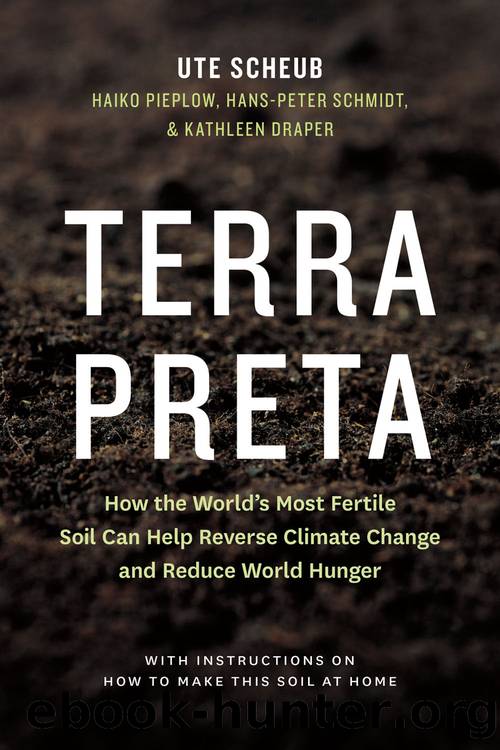 Author:Ute Scheub
Language: eng
Format: epub
ISBN: 978-1-77164-111-1
Publisher: Greystone Books
Published: 2016-04-28T16:00:00+00:00



CHAPTER 4
Ways of Producing Terra Preta
Whether in compost heaps, kitchen bokashis, or slatted wooden crates—there are many ways of producing black earth. This chapter addresses many frequently asked questions and offers practical tips about the production of terra preta.
DEPENDING ON WHETHER you want to liven up a balcony, a small garden, or a large community garden—there are many paths that lead to terra preta production. Each hobby gardener, each urban gardener must choose the method that best suits their circumstances. The most important ingredients of black earth production are always the same—biochar, organic wastes, microorganisms, soil organisms, and a deep respect for nature.
The location and size of the garden, the amounts of waste matter and associated costs are all factors that will guide the choice of production. Do you want to order ready-made biochar on the Internet or make it yourself? Do you want to cultivate effective microorganisms or leave it to the professionals? Do you need to produce a lot or a little, slowly or quickly?
The question of whether you want to make use of your own excrement can make some people squeamish (hygiene is covered in chapter 6). Just to repeat quite clearly—this is an optional ingredient of terra preta. You can produce high-grade black earth without this component, simply with the addition of biochar and the fermentation of organic wastes. Those new to biochar production and use are advised to gain experience before incorporating urine or feces into their terra preta recipe. It is better to take things slowly than to reject the project because something has gone wrong. As with good wine, your own insights and experiences in making terra preta generally have to mature before you can reap the rewards that come with it.
People who have a garden right in front of their door can set up a relatively low-maintenance compost heap, fermenting fresh kitchen wastes there directly. A variation would be to produce kitchen bokashi, which can later be used on the compost. People with small or communal gardens farther away from their homes with some distance to their compost should use the bokashi method, adding it to the compost later. Those with balconies or patios should make use of wooden crates, as these take up less space. City dwellers gardening on soils that could be contaminated should also use crates set up as raised beds.
Large-scale production is feasible and necessary, especially for larger farms; you just need to scale up the mentioned variations with the help of sophisticated machinery.
More recently, farmers are enlisting the help of their livestock to add stable carbon to their soils. Dairy farmers in Australia, for instance, have been adding between 150 and 300 grams of biochar per cow to the daily feed rations of their dairy herd since 2011. Not only has this proven to improve herd health and reduce manure odor, but the biochar can be found in the manure and is subsequently trampled into the pasture by the cows. Dung beetles and other soil
Download


Copyright Disclaimer:
This site does not store any files on its server. We only index and link to content provided by other sites. Please contact the content providers to delete copyright contents if any and email us, we'll remove relevant links or contents immediately.