So Few Got Through by Martin Lindsay
Author:Martin Lindsay , Date: September 17, 2020 ,Views: 23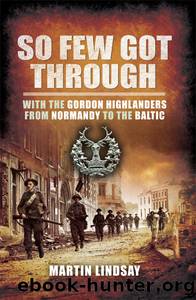 Author:Martin Lindsay
Language: eng
Format: epub
Tags: Bisac Code 1: HIS027100; HISTORY / Military / World War II
ISBN: 9781781597712
Publisher: Pen and Sword
Published: 2008-06-19T16:00:00+00:00



Mortar
Part Three
Belgium
6
However, half-way through the morning, while I was in the middle of a lecture, a despatch rider arrived with a mysterious message from the Adjutant: 'Bring in the cadre, for we are moving far.'
On the way to Beers I passed, going in the opposite direction, forty or fifty jeeps and 15-cwt. trucks with the familiar HD in crimson on a blue background. I looked closely at each and it did not take me long to realise that they were unit advance parties. And all going south, whereas only last night the Division had been moving north! I asked myself what could be the cause of this sudden, unexpected turnabout, and could only come to one possible conclusion: that we were being rushed south to stop the new German thrust in the Ardennes. I had reinstated young Ackers when my new jeep arrived. Now I told him to step on it.
I found Battalion H.Q. eating a hurried lunch. 'Advance parties to Hasselt' was the only information they had so far been given, so we seized some bully beef and biscuits and drove straight off again.
It was a long run down to Hasselt and dark when we arrived. I could see no sign of any Brigade representatives, so went to Corps H.Q. in the Royal Imperial Girls School. Here there was chaos. The schoolyard was hopelessly jammed with all kinds of transport, to the confusion of several cussing, honking drivers. There were no lights or signs, and the dark passages within were thronged with soldiery who did not belong to the H.Q. With difficulty I found my way to the map-room. Here, if there was not precisely a flap on, they were certainly taking a keen interest in the German break-through. G Branch had no idea where the Highland Division was to be found and had never heard of 153 Brigade. 'But you must have some communications to a Division under your command,' I expostulated. Well, perhaps if I returned an hour later they might have.
Another Highland officer, now part of this H.Q., took me downstairs to look for food. In a large class-room we found a cook ladling out stew. Worried-looking staff officers were in the queue with clerks and orderlies and the crews of the Guards' tanks which were blocking the yard outside.
We borrowed two mess tins and mugs from the kitchen, and found a table in a corner. I asked at once for details of the battle. My friend told me that it started on December 16th. The Germans attacked with twenty-two divisions, including a high proportion of armour, on a frontage of twenty-five miles and where the Americans were numerically rather weak. Hitler himself addressed representatives of each formation before it started. They had now reached a point thirty-five miles southwest of Liége.
It came as a complete surprise to the Allies. In this connection the Field Marshal's remarks a day or two before it began – 'The enemy can never again mount a major attack' – should
Download


Copyright Disclaimer:
This site does not store any files on its server. We only index and link to content provided by other sites. Please contact the content providers to delete copyright contents if any and email us, we'll remove relevant links or contents immediately.