Shadow 238 - The Book of Death 01-15-42, The by Maxwell Grant
Author:Maxwell Grant [Grant, Maxwell] , Date: January 26, 2015 ,Views: 344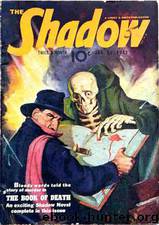 Author:Maxwell Grant [Grant, Maxwell]
Language: eng
Format: epub
Publisher: Street and Smith
Published: 0101-01-01T00:00:00+00:00



CHAPTER XI
BACK TO LIFE
IT was noon and James Wilvern, seated behind the big desk in his private office, had just sent Talbot out to lunch. Stepping to the rear door of the office, Wilvern opened it and admitted Otis Jurn. He didn't give the dapper man a chance to speak. Instead, Wilvern snapped bluntly:
"You didn't phone me, yesterday evening."
Jurn couldn't answer right away. Wilvern's bluntness ruined the whole set-up. It was Jurn's plan to ask Wilvern why he hadn't come to Darwick's, and then wait, with a wise look, while his employer fished for an answer.
Instead, Jurn was doing the fishing, particularly because of Wilvern's tone. Wilvern had a habit of telling Jurn that he hadn't met this person, or seen that thing happen, just as a reminder that certain matters were to be forgotten. He also had a way of putting questions in the same manner.
While Jurn debated, Wilvern added to the dapper man's confusion.
"Don't stare at me like Talbot!" stormed Wilvern. "I expect you to show sense, Jurn. I waited here, then went to the club and waited there until eight o'clock. Finally, I went to Darwick's, only to find he wasn't home!"
Jurn withheld a smile. He could see that Wilvern was building a neat alibi, provided that the phone call remained forgotten. It was best to play along with Wilvern.
"Darwick didn't come home," said Jurn. "That's why I didn't phone you. You said to call when Darwick showed up. Remember?"
Wilvern remembered, and nodded. Jurn let his smile display itself. He'd taken Wilvern's cue and added a gag that bettered it. Good policy, because it might cause Wilvern to loosen and become confidential. But Wilvern simply dismissed the subject with a wave.
"I intended to deliver these to Darwick," Wilvern said, gesturing to a stack of papers on the desk. "My lawyer prepared them, and when Darwick sees them, he'll hand me my pages and the rest of the book with them.
"The old fool has put himself in line for a blackmail indictment by the Federal authorities. My testimony is all they'll need to track down Darwick's operations, which are actually illegal, despite all his blubber about restitution.
"Still, there are other fools who would sympathize with him, and I'm not anxious to be censured. So I'll talk terms with Darwick and make him listen. He's old and doddering, and I wouldn't want anything to happen to him."
Privately, Jurn was quite sure that nothing could happen to Darwick beyond what Wilvern had already done. But Jurn didn't express that opinion. The way matters had turned, Jurn intended to sit tight, because he knew that breaks would come.
Not that Jurn was feeling very chipper about the breaks, because he could see himself adversely involved, though he was positive that Wilvern's situation would be worse than his own.
In considering the future, there was just one thing that Jurn really feared: that was The Shadow's reentry into the case. Whoever and wherever The Shadow was, he loomed as a dangerous figure in the Darwick case.
Download


Copyright Disclaimer:
This site does not store any files on its server. We only index and link to content provided by other sites. Please contact the content providers to delete copyright contents if any and email us, we'll remove relevant links or contents immediately.