Seducing the Knave (Wright Bastards, #3) by Sandas Amy
Author:Sandas, Amy , Date: November 28, 2022 ,Views: 8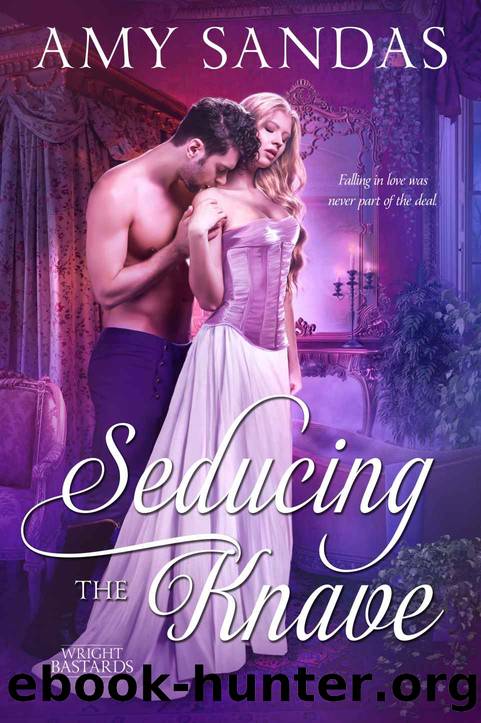 Author:Sandas, Amy
Language: eng
Format: epub
Tags: regency romance, historical romance, steamy historical, Wright Bastards
Publisher: Amy Sandas
Published: 2022-09-20T00:00:00+00:00



Chapter Seventeen
Max had always enjoyed withholding pleasure. Knowing he could make a lover desperate for an orgasm only he could provide intensified his own experience in a way that went far deeper than the obvious sexual satisfaction.
He'd intended to do that with Elle. Just the thought of her sweet voice sliding from proud and commanding to soft and pleading as she begged him to fuck her—to finally give her the release her body needed—made his cock throb with a delicious kind of pain. But now that he had her writhing beneath him, gasping and panting, he wanted to see her come. He needed to give her the pleasure she so desperately craved. And he couldn't wait.
The taste of her desire as he stroked her mouth with his tongue, the catches in her breath, and the desperate rocking of her hips made him harder than he'd ever been. Even if he'd wanted to, he wouldn't have been able to keep himself from grinding his throbbing erection into the mattress as he stroked and strummed her elegant, pouty folds.
When her breath shortened sharply and her jaw grew taut, he released her mouth.
Her eyes were tightly closed and her lips glistened from his kiss. The pink flush in her cheeks suggested she was rapidly becoming caught up in the throes of her approaching orgasm.
But he wanted more from her.
He thrust a second finger into her luscious heat.
Her thick lashes fluttered and she whimpered softly then bowed her spine. Tossing her head to the side, she raked her fingernails down his back and her short, panting breath puffed against his throat.
Max sucked in a deep breath but his chest was too tight. The lust inside him was shockingly intense, but as he watched the effects of her pleasure transforming Elle's flawless features, something elusive and extraordinary twisted through him. Something that stopped his breath and tugged sharply at his core.
But his mind was too dulled by passion, and before he could even think to analyze the feeling, Elle opened her eyes.
The soft blue pools glimmered with desire and swirled with rising need. Her lips parted as though she wished to speak but all she could manage was a series of short panting gasps.
Max's stomach tightened and his cock throbbed in need of release as he recognized the look of a woman on the edge of climax. He'd seen such a look countless times before, but he'd never experienced the core-twisting pleasure he felt as he acknowledged that he was about to give Elle exactly what she needed.
"It's yers, luv," he murmured, staring into those gorgeous eyes. "There fer the taking. That deep, desperate pleasure ye feel twisting inside ye is already yers. Ye just have to claim it."
He barely finished speaking before her lashes fluttered, her body went taut, and her breath caught on a half sob. The light that flashed in her eyes was one of shock then wonder then pure beautiful surrender.
Max guided her through the breath-stealing orgasm with warm, gentle kisses and the easy glide of his fingers until her inner flutters eased to a deep and subtle pulse.
Download


Copyright Disclaimer:
This site does not store any files on its server. We only index and link to content provided by other sites. Please contact the content providers to delete copyright contents if any and email us, we'll remove relevant links or contents immediately.