Satanic Fortitude (Doomed Cases Book 4) by Joanna Mazurkiewicz
Author:Joanna Mazurkiewicz [Mazurkiewicz, Joanna] , Date: May 21, 2017 ,Views: 383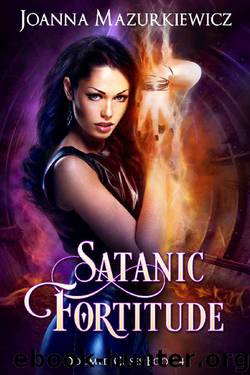 Author:Joanna Mazurkiewicz [Mazurkiewicz, Joanna]
Language: eng
Format: epub
Published: 2017-02-27T16:00:00+00:00



Ricky was officially in a relationship with Emma and he wasn't shy about it. We didn't even have a chance to talk about it, but a lot must have happened when I was stuck in hell.
They were snogging on the sofa when I walked into the room with the millions of flasks in my arms.
"Oh come on … I'm still here," I said. I still had no idea how I felt about it. Ricky was a womaniser and Emma was a single mother with a violent ex-husband. This wasn't a great combination, but this wasn't my business. I was hoping that they were going to last. My own decisions in the past proved that I was the last person that should give any relationship advice, and I had to admit that Ricky had never looked happier.
I went home shortly after that, picked up a few things and puttered around my old space for a bit. Paul's pub wasn't too far from my flat and I was charged with magic walking through the gloomy streets of Brixton. I had been sober and off liquid magic for weeks now. For some reason I hadn't missed being hungover at all.
I stopped and took out a cigarette outside near the traffic light. I had bought a pack earlier on, telling myself that I needed one. It was a nasty habit, and I knew that smoking in front of a child wasn't a good idea, but I had to settle my nerves somehow before tomorrow.
"That's you," said someone behind me. I turned around seeing two female demons from Astaroth faction. That was one of the circles of hell I didn't get to visit.
"Move along, ladies. I don't need this tonight," I said, before I could think about any other way to handle this new attention.
"You killed him. I heard about you, mongrel girl," said the dark-haired one and then spit on the ground, right at my shoe. I inhaled the smoke deep into my lungs, trying to stay calm.
"Don't believe everything you hear," I muttered. The other female demon was dressed in jeans and leather jacket. She had short red hair and something in her hand.
I continued to ignore them, but the dark-haired one suddenly launched herself at me with her nails and scratched my face. I grabbed her wrists, dropping the cigarette and attracting the attention of other humans. This wasn't the best place to use my demonic energy, but I had to do something.
"I give you one second to walk away or you'll be truly regretting this," I hissed, digging my nails into her skin. My cheek was bleeding and I really wanted to have a drink now.
"Murderer. He tossed you away and you killed him. Mongrels should be wiped off the earth completely," said the other, backing away. "You're scum, worse than humans."
The dark-haired demon was already tapping into her source and I was getting fed up with being the target. The Watchers weren't around, and that was so typical. I really needed them to see what was going on.
Download


Copyright Disclaimer:
This site does not store any files on its server. We only index and link to content provided by other sites. Please contact the content providers to delete copyright contents if any and email us, we'll remove relevant links or contents immediately.