Re:ZERO -Starting Life in Another World-, Vol. 19 by Tappei Nagatsuki and Shinichirou Otsuka
Author:Tappei Nagatsuki and Shinichirou Otsuka [Tappei Nagatsuki and Shinichirou Otsuka] , Date: August 15, 2022 ,Views: 15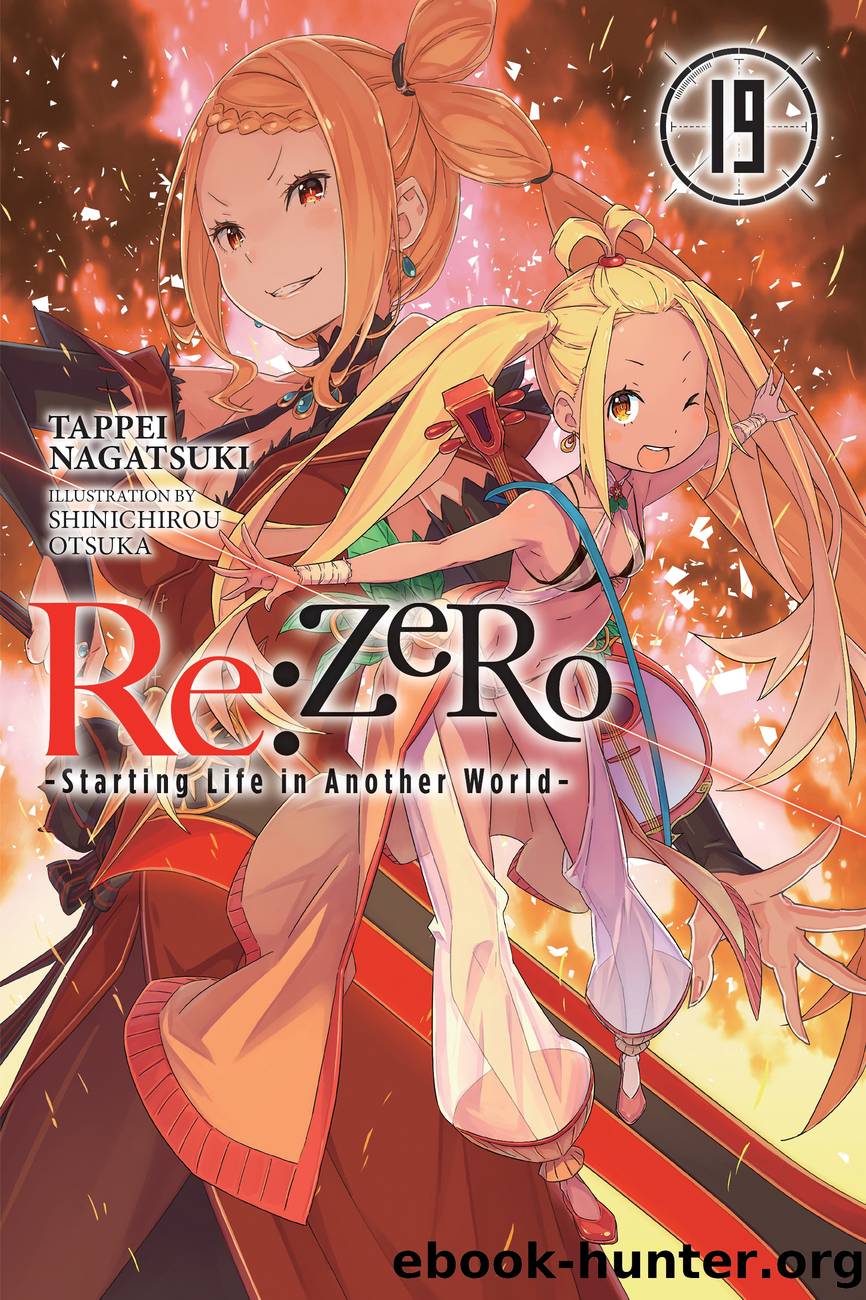 Author:Tappei Nagatsuki and Shinichirou Otsuka [Tappei Nagatsuki and Shinichirou Otsuka]
Language: eng
Format: epub
Publisher: Yen On
Published: 2022-07-06T00:00:00+00:00



"I'm counting on you, Emilia—get those women out of that little kingdom."
3
She could still hear the sounds of a raging battle far in the distance.
""
For a moment, it felt like she could almost hear a voice, but she focused her thoughts once more and didn't stop.
Her mind must have been playing tricks on her, because it was impossible for that voice to reach her. With a silent prayer, Emilia picked up her speed.
Calling it the sounds of battle was a lie. What she heard was a one-sided violence, and the intensity of it just reinforced the danger that Subaru had exposed himself to. But at the same time, the resounding crashes she could still hear were proof that Subaru was still running away from Regulus.
"I have to hurry…!"
Using the icy mist, Emilia had covertly left Subaru and Regulus on the battlefield to run back the way they came. They had crossed a great distance during the skate across the canals. It was a long way back.
But Subaru had taken the unreasonable role of stalling for time, so she couldn't afford to get discouraged when she had been entrusted with such an important task.
The hem of her bold dress fluttered as she made her own path straight through the city, creating stairs and footholds of ice on or around buildings, just like she had done when sneaking around the control tower.
"It's a good thing we practiced Icebrand Arts."
It was a training she had started at Subaru's suggestion, but it was not only well suited to her fighting style, it had also been useful in raising the basic level of her admittedly lacking magic, so she was really grateful to Subaru.
Whenever she tried to thank him, though, he would always respond modestly, saying, "It's a coincidence. I just wanted to see you acting like an ice fairy is all."
In any case, because of that daily practice, Emilia had become able to fashion all sorts of things out of ice and not just weapons. Her current method of moving through the city was just one effect of that.
"Create Ice Road…!"
She couldn't get used to the odd phrasing, but basically it was a way of using her magic to freely create a path of ice for herself. She didn't normally use it because it was dangerous with other people around, but this was an emergency situation—
"And it should naturally go away after a little bit of time passes."
Making an excuse for no one in particular, she ran along path after path of ice, heading up into the sky to pass over the city. And surprisingly quickly, she arrived at her destination—
"—Is everyone here?!"
Slipping through the doors that had been kicked open by Subaru and Reinhard, she called out as she ran into the middle of the chapel. She was greeted by the chapel interior still reeling from the destructive forces it had been forced to endure. All the wives were still lining the seats.
"Phew. You were still…"
She breathed a sigh of relief that they
Download


Copyright Disclaimer:
This site does not store any files on its server. We only index and link to content provided by other sites. Please contact the content providers to delete copyright contents if any and email us, we'll remove relevant links or contents immediately.