Rainbow Six by Tom Clancy & Mark Greaney & Jerome Preisler
Author:Tom Clancy & Mark Greaney & Jerome Preisler [Clancy, Tom & Greaney, Mark & Preisler, Jerome] , Date: October 7, 2020 ,Views: 8403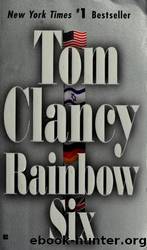 Author:Tom Clancy & Mark Greaney & Jerome Preisler [Clancy, Tom & Greaney, Mark & Preisler, Jerome]
Language: eng
Format: epub
Tags: Thriller, Adventure, Suspense, War
ISBN: 9780425170342
Google: _7jR_ifoeQoC
Goodreads: 5720
Publisher: Berkley
Published: 1998-01-01T00:00:00+00:00



CHAPTER 20
CONTACTS
She knew she was sick. She wasn't sure how much, but Mary Bannister knew that she didn't feel well. And through the drugs, part of her worried that it might be serious. She'd never been in a hospital, except once to the local emergency room for a sprained ankle that her father worried might be broken, but now she was in a hospital type bed with an IV tree next to her, and a clear plastic line that ran down into the inside of her right arm, and just the sight of it frightened her, despite the drugs going into her system. She wondered what they were giving her. Dr. Killgore had said fluids to keep her hydrated and some other stuff, hadn't he? She shook her head, trying to get the cobwebs loose enough to remember. Well, why not find out? She swung her legs to the right and stood, badly and shakily, then bent down to look at the items hanging on the tree. She had trouble making her eyes focus, and bent closer, only to find that the markings on the tag-tapes were coded in a way she didn't understand. Subject F4 stood back up and tried to frown in frustration but didn't quite make it. She looked around the treatment room. Another bed was on the far side of what appeared to be a brick partition about five feet high, but it was unoccupied. There was a TV, off at the moment, hanging on the far wall. The floor was tile, and cold on her bare feet. The door was wood, and had a latch rather than a knob - it was a standard hospital door, but she didn't know that. No phone anywhere. Didn't hospitals have phones in the room? Was she in a hospital? It looked and seemed like one, but she knew that her brain was working more slowly than usual, though she didn't know how she knew. It was as if she'd had too much to drink. Besides feeling ill, she felt vulnerable not in total command of herself. It was time to do something, though exactly what she wasn't sure. She stood there for a brief time to consider it, then took the tree in her right hand and started walking for the door. Fortunately, the electronic control unit on the tree was battery powered and not plugged into the wall. It rolled easily on the rubber wheels.
The door, it turned out, was unlocked. She pulled it open, stuck her head out, and looked around the door frame into the corridor. Empty. She walked out, still dragging the IV tree behind her. She saw no nurses' station at either end, but did not find that remarkable. Subject F4 headed to her right, pushing the IV tree ahead of her now, looking for-something, she wasn't sure what. She managed a frown and tried other doors, but while they opened, they revealed only darkened rooms, most of them smelling of disinfectant until she got to the very end.
Download


Copyright Disclaimer:
This site does not store any files on its server. We only index and link to content provided by other sites. Please contact the content providers to delete copyright contents if any and email us, we'll remove relevant links or contents immediately.