Origami St.Claire No. 2 by Ashley Grace Carpenter
Author:Ashley Grace Carpenter [Carpenter, Ashley Grace] , Date: June 11, 2021 ,Views: 32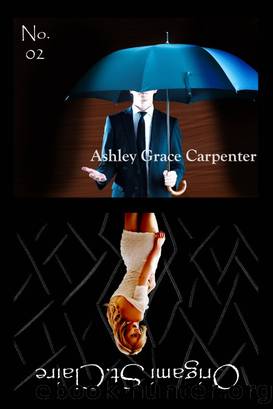 Author:Ashley Grace Carpenter [Carpenter, Ashley Grace]
Language: eng
Format: epub
Tags: robot, science fiction, serial fiction, future, ai, teleporter
Published: 0101-01-01T00:00:00+00:00



I give CIBL my new instructions and request to be notified when the results of my previous instructions to trace Caterine's device are ready. I know it's a long shot. I said so last night. I'm not going to be able to find her. But I know there are people out there that are looking for her as well. Trying to find her may lead to finding them, so it's a shot I gotta take.
In the meantime, I have a recently cleared crime scene to check out. The alley scene was recently reopened to the public, which means I can check it out. I set up notifications for stuff like that from the blotter, through a backdoor I installed while still on the force. I haven't had a case where I needed to use it until now, but it comes in handy.
Even though the scene is reopened, it will still be between twelve and forty-eight hours before the clean-up crew comes in to completely sanitize the area. That doesn't mean that Civil just leaves blood and other nasty bits everywhere. No. After the crime scene techs get all the evidence they need, there's a wash up of the scene before it's reopened to the public. But the cleanup is quick. That means there might be trace amounts of something, anything, that may lead me to the killers of both Mr. Payne and Mr. Burges. I had to force myself to stop referring to these men as 'the prick' and 'the bum,' for Maggie's sake. She'd get pissed and hit me again if she knew.
As I head out of the office, I stop by Maggie's desk. It's weird when she accesses the net, and I really can't tell a difference between inSight and Nero-net, myself. She looks every bit as ridiculous using her inSight as she claims Nero-net users look. The inSight interface covers the user's eyes in layers of nanites, making the user's eyes anywhere from a light shade of grey to pitch black depending on the opacity rating. When Maggie uses her inSight, her eyes always turn a dull, lifeless shade of grey. And when she moves her head about, as she's doing right now in looking at me approach, it's as if she's blind. And no one's blind anymore. "Don't say it," she commands, pointing at me with the right index finger of her black and hot pink gloved hands. Where the inSight interface only provides a visual display, the specially designed gloves allow a user to interact with what they are seeing. There are sensors in the gloves that act in much the same way as the thousands, if not millions, of sensors arrayed in most rooms that connect a user to the lite-screens or three dimensional models. And despite the dead look in my assistant's eyes, it's not as much of a nuisance as older bud or glass projection devices that project everything the user is looking at around their head. Life hits a new low
Download


Copyright Disclaimer:
This site does not store any files on its server. We only index and link to content provided by other sites. Please contact the content providers to delete copyright contents if any and email us, we'll remove relevant links or contents immediately.