Orbán by PAUL LENDVAI
Author:PAUL LENDVAI [LENDVAI, PAUL] , Date: April 8, 2021 ,Views: 30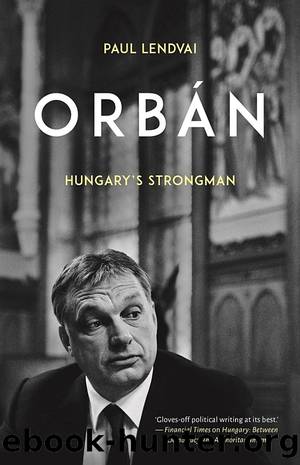 Author:PAUL LENDVAI [LENDVAI, PAUL]
Language: eng
Format: epub
ISBN: 9780190911591
Publisher: OUP
Published: 2017-01-15T00:00:00+00:00



15
POWER, GREED AND CORRUPTION
Viktor Orbán himself once said, 'In politics everything is possible.' This he has demonstrated with his own staggering rise from utter poverty in Felcsút to his supreme and unchallenged position in Budapest. However, the warning given in the House of Lords by the Earl of Chatham, William Pitt (1708–78), is more pertinent than ever in modern Hungary: 'Unlimited power is apt to corrupt the minds of those who possess it.' Almost a century later the British historian Lord Acton (1834–1902) put it even more succinctly in his oft quoted letter to Bishop Mandell Creighton: 'Power tends to corrupt and absolute power corrupts absolutely.'1 The personal attacks of opposition spokesmen and the independent media against the Hungarian prime minister on account of his family's alleged fabulous enrichment and the notable number of privileged oligarchs among his friends underscore the doubts as to whether Orbán can still learn how to deal with power without succumbing to it completely.
The order that has evolved in the last seven years under Orbán is a system sui generis. Before the election in 2010, for example, Orbán personally vetted and handpicked every candidate (in other words, the subsequent Fidesz MPs) at his home at Felcsút. He leads the party alone, with lightweights as deputies, and without any controlling body. One of his oldest but intellectually shallowest friends serves him as the nominal leader of the Fidesz group in parliament. The annual lists of the most influential Hungarians reflect the ups and downs in the careers of former and current figures in politics, business and the media. Their rise or fall depends not on talent or performance but primarily on their personal relationships with, as well as absolute loyalty to, Orbán. The revolt of his powerful and potentially most dangerous former friend and ally, the impetuous Lajos Simicska, has merely served to increase the prime minister's general sense of mistrust of associates who have become too powerful or too ambitious. This conflict and the subsequent purge of Simicska's people from the bureaucracy have without doubt strengthened Orbán's tendency to skilfully play the strongest figures in his immediate circle off against each other. Even before the 2014 election triumph the Polish author Igor Janke,2 himself a genuine admirer of Orbán, cited unnamed staff members who claimed that the Hungarian head of government is:
a ruthless chess player of power politics, who has concentrated immense power in his own hands, power that he is unwilling to share, and that is extraordinarily dangerous … Inwardly, he is full of passions which are not visible on the outside … He plays chess with the people around him but in such a way that they cannot endanger his own position … He takes good care that all substantive decisions remain in his hands and he is not choosy about his methods.
Quoting off-the-record remarks from other Fidesz insiders, Janke illustrates how Orbán has, step by step, deprived his deputy and former parliamentary leader Tibor Navracsics of power, in favour of the emerging
Download


Copyright Disclaimer:
This site does not store any files on its server. We only index and link to content provided by other sites. Please contact the content providers to delete copyright contents if any and email us, we'll remove relevant links or contents immediately.