No Angel: My Harrowing Undercover Journey to the Inner Circle of the Hells Angels by Dobyns Jay;Johnson-shelton Nils
Author:Dobyns, Jay;Johnson-shelton, Nils , Date: April 8, 2021 ,Views: 24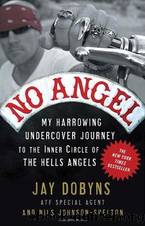 Author:Dobyns, Jay;Johnson-shelton, Nils
Language: eng
Format: mobi
Tags: Organized Crime, Arizona, Social Science, True Crime, Popular Culture, Law Enforcement, General, Personal Memoirs, Murder, Serial Killers, Biography & Autobiography, Undercover operations, Fiction, Motorcycle Gangs
ISBN: 9780307405869
Publisher: Random House Digital, Inc.
Published: 2010-02-02T04:33:25+00:00



THE PARTY STARTED at one in the afternoon. Timmy and Pops showed up early. JJ and I hung back. We'd be fashionably late.
Timmy called to check in around two. He said, "The guys are on edge, but ready. There's a lot of boozing but not much drugging—except for Vicodin. They're popping them like Pez candies."
I said, "Figures."
"Yeah. They're anxious. There's a lot of shop talk too. Doug and Hank have some shit they wanna sell today. Some other guy wants to sell us a full-auto. Billy told Pops he wants to sell him a couple shotguns, ASAP."
I said, "Jesus, we're like Guns-R-Us."
Timmy laughed and said, "Yep." I told him I'd sign some cash out of our safe before we headed over. He said, "Good. We'll probably need it."
We hung up. I called Slats and let him know the situation. He told me there'd been no reports of Mongol activity in Laughlin.
JJ and I got to the bar around five. The mood was strange. The guys were serious but mellow, zonked by massive quantities of alcohol and painkillers.
JJ broke off to talk to the girls. I went to talk to Timmy, Smitty, and Joby. We said hello and gave each other hugs. Joby, a nondrinker, was not dulled by booze. Smitty was distant but serious looking. This was his party in his town, and he didn't want anything to break bad, but if it did, he'd be ready.
Joby spouted the usual invective against his Mongol enemies. For the time being, they remained imaginary, as did the violence he would unleash upon them. Smitty leaned close and said, "So far, so good."
"That's good news," I said.
Joby closed his eyes and shook his head forcefully. "Fuck that. I want those fuckers to show!" Then he nodded to someone over my shoulder and excused himself. Once he was out of earshot, Smitty asked, "You remember those silencers you showed me?"
"Sure do."
"You change your mind about selling them?"
"They're already sold, Smit. Sorry," I lied.
"Well, you getting more?"
"Not at the moment. What's up?"
"Can you put me in touch with your guy? I'd love to get one of those for my Ruger."
I told Smitty I'd look into it. He said good.
JJ did a few deals, got some Vicodin, and bought a little Baggie of meth from Dolly. JJ told me later that Lydia kept telling her how impressed everyone was with me and the Solos, and how happy she was, personally, that I had such a solid girlfriend in JJ. JJ told me she'd blushed when Lydia told her that, that she was actually flattered. Lydia's words gave JJ confidence, and like a good undercover, JJ flipped that confidence back onto Lydia in the form of credibility.
JJ was getting accepted far more quickly than I could've ever imagined.
JJ became our drug clearinghouse for the evening. They were all small quantities, but she needed to make an evidence drop. It looked unlikely, but we had to assume we'd still have an altercation with the Mongols, which meant we'd be dealing with law enforcement first-responders who wouldn't know about our undercover status.
Download


Copyright Disclaimer:
This site does not store any files on its server. We only index and link to content provided by other sites. Please contact the content providers to delete copyright contents if any and email us, we'll remove relevant links or contents immediately.