Microsoft Word - ONE_FOOT_FORWARD.doc by Administrator
Author:Administrator , Date: June 11, 2021 ,Views: 19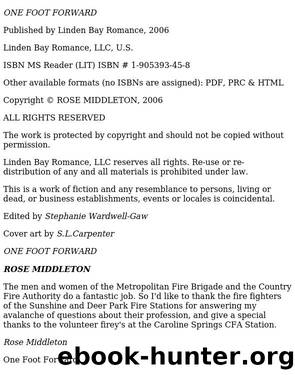 Author:Administrator
Language: eng
Format: epub



Chapter 9
He stood there, like a wax statue, frozen in time. Only his eyes moved, slowly sliding down from her face, lingering over her breasts before dropping down to her foot. Molly tried to keep still, to stay balanced, but it seemed every time he was near, her equilibrium took a holiday.
She felt her body tilt sideways, felt the wobble in her tired arms moments before Mick rushed in. His grip on her upper arms rendered the crutches useless and she resisted the pull of gravity.
"Jesus, Molly," he breathed, his face so close to hers she could taste his minty breath.
He'd just showered and smelled so clean and fresh. "Are you okay?"
Convincing him she was tired and weary required too much effort, so she closed her eyes and soaked up the strength he offered. The day had been too long, her appointment with the prosthetist far too exhausting for her to argue with Mick.
103
Rose Middleton
One Foot Forward
"I need to rest," she explained, her eyes popping open to study his face. "There's nothing to worry about."
"You're getting about on crutches and you're telling me not to worry?" He shook his head. "Not gonna happen. Can you stand for a minute?"
Releasing her, he turned to close the door. Once it was locked and secure, he set aside her walking aids and gathered her in his arms. She found herself floating through her dimly lit home in the arms of a hunk, and, rather nicely, the pain in her leg eased considerably.
"You can put me down, Mick," she offered softly, touching the strong jaw she'd missed so much. "I'm okay."
His eyes were a heart rending mix of concern and excitement. In the living room, he set her down on the couch beside him and immediately cradled her pained left stump in his palms. "So why the crutches?"
"I've been on my feet all day. I was getting ready to go to bed. Actually, I thought you might be Jane."
"Oh really?" he drawled with a smile. "I should've known. You girls stick together."
Normally, she'd have a retort to such a remark, but with his big strong hands gently massaging out the aches and pains, Molly was lost for words. During her appointment, she'd tried on two different prosthetic limbs. She'd walked up and down the stairs, jogged along the corridors and even walked blindfolded on the treadmill.
The difference between the titanium alloys and her plastic limb was astronomical.
Lighter, easier and far more manoeuvrable, she'd felt like a kid getting a new pair of sneakers. Her initial fears about the ankle joint proved insubstantial as the new technology took away the guess work.
For the first time in eighteen months, she felt like a human being again, she'd felt whole.
Despite the pain and the discomfort of the standard, ill-fitting sockets—a cast had been taken for new ones—Molly saw a whole new future.
One in which she could run again.
The thought made her dizzy with joy.
"Well," she sighed, leaning back and resting her head on the arm of the sofa.
Download


Copyright Disclaimer:
This site does not store any files on its server. We only index and link to content provided by other sites. Please contact the content providers to delete copyright contents if any and email us, we'll remove relevant links or contents immediately.