Meowmoirs of a Klepto Cat by Patricia Fry
Author:Patricia Fry [Fry, Patricia] , Date: June 12, 2019 ,Views: 100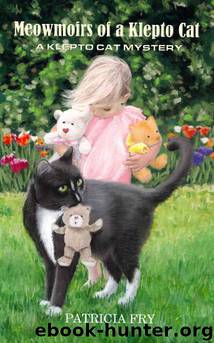 Author:Patricia Fry [Fry, Patricia]
Language: eng
Format: epub
ISBN: 9780999472453
Publisher: Matilija Press
Published: 2018-05-31T04:00:00+00:00



Chapter 6 – Rags Joins the Force
We're not certain if it's Rags's memory, his sense of loyalty, or something else that makes him a good Samaritan. It surely can't have anything to do with his understanding of right and wrong or any sort of commitment to humanity. Cats aren't people, after all. But Rags has certainly done his fair share of community support. I mean, how many people do you know who have participated in a lineup and fingered a criminal? And I'll bet you don't know even one cat that has done it.
Rags is not completely unique in his ability to help law enforcement. At least twice before, a cat has provided evidence that convicted a killer. In fact, it's becoming more and more common for prosecutors to use pet DNA in court. The DNA from an animal's fur, saliva, urine, or feces can put someone at a crime scene. Talking birds have been known to tell all—or at least say enough in a courtroom to convict someone of wrongdoing. It's only a matter of time before it's commonplace to bring a pet before a jury as a credible witness. We all know that animals react and they respond. They remember someone who is kind to them and someone who abuses them. Some cats—and certainly dogs—seem to be deeply affected by aggressive and abusive acts against them or toward someone they're attached to.
As far as we know, the first time Rags witnessed someone being attacked, he simply happened to be in the wrong place at the wrong time. It was an unfortunate chain of events that caused a lot of trouble for a lot of people, and there was Rags, right in the middle of the muddle.
By then, Aunt Maggie had married Max Sheridan and moved into his home next door. I was engaged to Michael and living in Auntie's old farmhouse with Rags. It was a great place for entertaining, so Auntie and I agreed to open it to the Hammond Cat Alliance for a fundraiser. To keep Rags out of trouble and out of harm's way, I closed him in an upstairs bedroom.
Later that day as the event was winding down, Auntie went up to the room and found a dead body and an extremely traumatized cat. Rags was so far off his game—so seemingly upset over the next few days, in fact—that I called in Caroline, a local animal psychic, to talk to him—or listen to him, as it were. According to Caroline, indeed, Rags had witnessed something pretty frightening. But the worst part for Rags seemed to be that he also experienced brutality. He showed Caroline a mind-picture of a man kicking him in the side.
Caroline also told us that Rags didn't know the killer, but she was certain that the cat would remember him if he ever saw him again. I could corroborate Rags's injury. I'd noticed right after the incident that he had a tender spot on one side and wondered why. I checked him over to make sure nothing was broken.
Download


Copyright Disclaimer:
This site does not store any files on its server. We only index and link to content provided by other sites. Please contact the content providers to delete copyright contents if any and email us, we'll remove relevant links or contents immediately.