Made to be Broken: SAS hero turns Manchester hitman (A Rick Fuller Thriller Book 7) by Robert White
Author:Robert White [White, Robert] , Date: August 6, 2022 ,Views: 3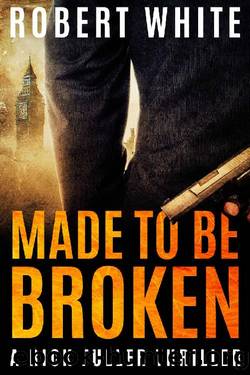 Author:Robert White [White, Robert]
Language: eng
Format: epub
Publisher: Robert White Books UK
Published: 2021-03-14T16:00:00+00:00



Dear Richard,
As you are probably aware, I have been unwell. Shortly after you left for Thailand, a scan of my upper bowel revealed three tumours that subsequently proved to be malignant. As a man who has been blessed with good health all my days, this came as somewhat of a shock, and as you can imagine, it has taken me some time to come to terms with my own mortality.
You see, we are all vulnerable, Fuller. We are all weak.
When Harriet Casey called me in the middle of the night with fear in her voice, I didn't hesitate to send her to you. Harriet is somewhat feisty and opinionated, not unlike your good self. However, you will discover she is extremely loyal and despite her youth, a competent operator.
I took the liberty of keeping an eye on you and Cogan this past year. Retirement, for whatever reason, can be hard on a fighting man, and both of you have sought solace in your own way, either in the arms of a woman, or, in your case, the bottom of a bottle.
It would appear that neither option has been a success.
Richard, take some advice from a man who has been given a reprieve, an unexpected yet welcome extension to his existence. Live your life. Live it the only way you know. Take Mr Cogan along for the ride, because life is short, rarely sweet, and to have someone around you that would lay down their life for yours is something exceptional.
I told Desmond that I hoped this letter would help you, and I'm sure that you expected details of Russian oligarchs and hi-tech shenanigans in these pages, but that was not my intention. For that, we shall meet face to face. No, these words, clumsily written, are meant to impart something that you have been missing this last year, and that is your sense of belonging.
There are times when we all feel that life is not worth living, Richard. That is until you discover that something, or someone, is about to take that very life from you.
Do what you do best, Fuller. Lead your team. Get to the bottom of this puzzle. God's speed.
Cartwright.
P.S.
I do believe it is your turn to buy luncheon.
* * *
Des and Jack had been dispatched to buy supplies for the lock up. Food, drink, more clothes, wood for the fire.
Rick caught a cab to Evo car hire in the city and returned with an Aston Martin V12 Vantage in quantum silver.
Harriet, who had concluded some diplomatic clothes shopping of her own, seemed impressed.
"Well, I'll say this for you, Fuller, you don't do things by halves."
"Jump in, Casey," he said. "We're going for a ride in the country."
She slid into the car, dropped her bag containing the stick and computer into the rear seat and took in the opulence of the Aston.
"Nice… very nice," she said. "V12 too. You can tell straight off by the bonnet louvres."
Fuller glanced over as he pushed the Aston into gear.
"You know your cars then?"
"I love cars, Fuller.
Download


Copyright Disclaimer:
This site does not store any files on its server. We only index and link to content provided by other sites. Please contact the content providers to delete copyright contents if any and email us, we'll remove relevant links or contents immediately.