Kehrer, Juergen u Wuerth, Petra - Todeszauber by Wilsberg trifft Pia Petry
Author:Wilsberg trifft Pia Petry , Date: November 5, 2014 ,Views: 9786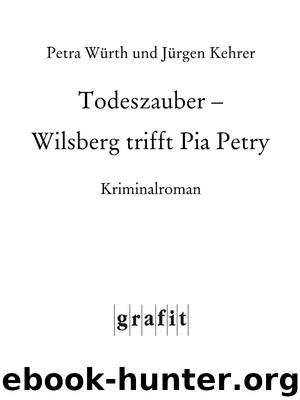 Author:Wilsberg trifft Pia Petry
Format: epub
Published: 2012-11-27T16:00:00+00:00



18
Pia Petry isst eine Currywurst
»Das verstehe ich nicht«, sagt Wilsberg, als wir das Polizeipräsidium verlassen. »Wieso hat Reichweiler das gemacht?«
»Keine Ahnung. Vielleicht will er nicht, dass die Geschichte zu hoch gehängt wird. Vielleicht hat er Angst, wir könnten die Polizei rebellisch machen und gegen ihn aufhetzen.«
»Stand eigentlich was Interessantes im Obduktionsbericht?«, fragt er und presst sich den Handballen gegen die rötlich schimmernde Beule auf seiner Stirn.
»Weder konnte ich alles lesen noch habe ich alles verstanden. Aber zwei Sachen sind mir aufgefallen. Zum einen hat Lademann die Wahrheit gesagt: Isabel hat sich tatsächlich gewehrt. Zum anderen …«
Wilsberg sieht mich fragend an.
»… war Isabel schwanger.«
»Was?«
»Im dritten Monat.«
»Von Reichweiler?«
»Weiß ich nicht. Stand nicht drin.«
»Na ja. So ein DNA-Abgleich dauert«, sagt Wilsberg. »Falls Reichweiler überhaupt damit einverstanden ist. Er wird ja offiziell nicht …«
Sein letzter Satz geht im Lärm eines laut aufheulenden Motors unter. Ein dunkelgrüner MG fährt neben uns auf die Bordsteinkante. Die Tür schwingt auf und ein junger Mann mit dunklen Locken steigt aus.
»Hallo, Pia!«
»Florian!«, rufe ich erfreut. »Was machen Sie denn hier?«
Er nimmt mich in den Arm und küsst mich auf beide Wangen. »Ich habe Sie gerettet.«
»Gerettet?«
»Als ich hörte, was passiert ist, habe ich sofort Reichweiler angerufen und ihn gebeten, die Anzeige zurückzunehmen. Ich bin ein Held, finden Sie nicht?«
Wilsberg, der neben uns steht, beobachtet die Szene mit zusammengekniffenen Augen.
»Entschuldigung«, sage ich. »Ich habe Sie noch gar nicht vorgestellt: Das ist mein Kollege Georg Wilsberg. Florian von Sandleben.«
Die beiden Männer reichen sich die Hand. Von Sandleben mit freundlich neugierigem Gesichtsausdruck, Wilsberg mit der Ausstrahlung eines Bullterriers kurz vor dem Angriff.
»Haben Sie schon etwas gegessen?«, wendet sich von Sandleben an mich.
»Nein. Ich habe, ehrlich gesagt, gar keinen Hunger.«
»Ich habe auch keinen Hunger«, sagt Wilsberg knurrig.
Was von Sandleben nicht zu irritieren scheint. »Irgendetwas essen müssen Sie doch. Wie wäre es mit einer Currywurst?«
»Davon bekomme ich immer Sodbrennen«, antwortet Wilsberg und verzieht das Gesicht.
Von Sandleben greift nach meinem Arm und zieht mich zur Seite. »Ich muss mit Ihnen reden. Es ist dringend.«
Unsicher werfe ich einen Blick zu Wilsberg, der uns nicht aus den Augen lässt.
»Aber nur, wenn es schnell geht.«
»Das geht ganz schnell.«
»Ich muss weg«, teile ich daraufhin meinem Kollegen mit. »Ich melde mich morgen bei dir.«
Und schon dirigiert mich von Sandleben zu seinem Auto. Der Mann weiß, was er will.
Download


Copyright Disclaimer:
This site does not store any files on its server. We only index and link to content provided by other sites. Please contact the content providers to delete copyright contents if any and email us, we'll remove relevant links or contents immediately.