Just One Chance by Phillips Carly
Author:Phillips, Carly , Date: November 25, 2021 ,Views: 56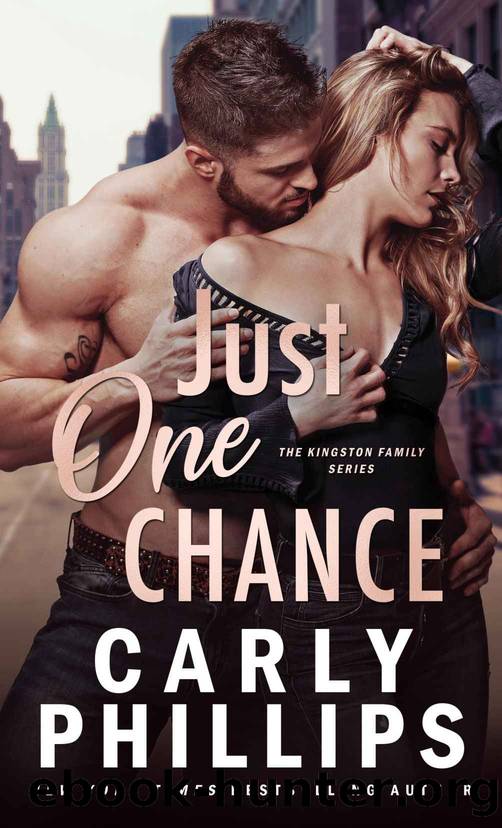 Author:Phillips, Carly
Language: eng
Format: epub
Tags: Romance, Contemporary
Publisher: CP Publishing
Published: 2021-10-11T16:00:00+00:00



Chapter Eight
Almost a full week of filming had passed with no stalker incidents. Tomorrow, Friday, was the last day at the mansion. They'd pick up next week in a studio in Queens. Security was tight, and a bodyguard stood in front of Sasha's dressing room door at all times. Though Alpha Security had run background checks on anyone with access to the set and who'd signed in on Monday, no red flags turned up. A handful of people had worked on sets with Sasha before, and Alpha Security was focusing on those individuals because they'd obviously met or seen her in the past. Clearly her stalker had issues, and someone mentally ill could interpret any innocent smile or look the wrong way and assume Sasha was meant to be with him.
Xander had come from a quick meeting with Isaac, discussing the actor playing Steele and his reactions on screen. The director was going to talk to Adrian Hoffman about his over-the-top emotions on screen. Sasha and Adrian, a.k.a. Amanda and Steele, were doing a slow dance toward a new relationship. Steele wasn't certain he could trust the blond woman who'd shown up seemingly out of nowhere to work with him, but he needed to kiss her as a distraction.
Since they filmed out of sequence, the first kiss was up next. Hands clenched, Xander returned to set and saw Sasha and her co-star huddled together in the corner.
He wouldn't lie and say it was easy seeing her with another man, even for her job. But when the filming began, Xander distanced himself emotionally, and the only people he saw were the characters he'd written and an explosively hot kiss that would thrill … and piss off movie-goers who had been attached to Steele's wife.
And though he'd like to say the experience showed him he could handle her life better now, all it served to do was prove to him how gifted she was and reaffirmed what he'd told her the night they'd talked. She was going places and he wouldn't hold her back.
Hours later, they were in her dressing room at the end of the day when her cell rang. She eyed it, a frustrated look on her face. She hit a button and didn't accept the call.
"What's wrong?" he asked.
"My mother and I'm really not in the mood to talk to her. Maybe later after I've had something to eat, a hot shower, and I've relaxed." She picked up her bag with all her things.
"Here. Give that to me." He took the tote from her. "Ready?"
Before she could reply, her cell rang again. She glanced at the screen and groaned. Tapping on the screen, she put the phone to her ear. "Mom?"
"Hi, baby girl!"
Xander was standing so close he could hear her mother's voice.
"I'm just leaving the set. Can I get back to you later?" Sasha asked.
"Guess where I am?" her mother asked. "At JFK Airport in New York! Surprise!"
Xander met Sasha's stunned gaze. "Why?" she asked.
"Because I miss you. And I wanted to come see you on set.
Download


Copyright Disclaimer:
This site does not store any files on its server. We only index and link to content provided by other sites. Please contact the content providers to delete copyright contents if any and email us, we'll remove relevant links or contents immediately.