Jeffery Deaver - Garden Of Beasts by Jeffery Deaver
Author:Jeffery Deaver [Deaver, Jeffery] , Date: May 22, 2019 ,Views: 142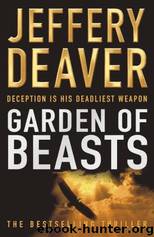 Author:Jeffery Deaver [Deaver, Jeffery]
Language: eng
Format: epub
Published: 2011-01-01T02:17:04.985000+00:00



Chapter Eighteen
Even though he was a "lukewarm"—politically neutral, not a member of the Party—Willi Kohl enjoyed
certain privileges reserved for devout National Socialists.
One of these was that when a senior Kripo official had moved to Munich, Kohl had been offered the chance to take his large four-bedroom apartment in a pristine, linden-lined cul-de-sac off Berliner Street near Charlottenburg. Berlin had had a serious housing shortage since the War and most Kripo inspectors, even many at his level, were relegated to boxy, nondescript folk-apartments, thrown together in boxy, nondescript neighborhoods. Kohl wasn't quite sure why he'd been so rewarded. Most likely because he was always ready to help fellow officers analyze crime scene information, make deductions from the evidence or interview a witness or suspect. Kohl knew that the most invaluable man in any job is the one who can make his colleagues—and superiors especially—appear invaluable as well. These rooms were his sanctuary. They were as private as his workplace was public and were populated by those closest to his heart: his wife and children and, on occasion (sleeping always in the parlor, of course), Charlotte's fiancé, Heinrich. The apartment was on the second floor and as he walked, wincing, up the stairs, he could make out the smells of onions and meat. Heidi kept to no schedule in preparing her food. Some of Kohl's colleagues would solemnly declare Saturdays, Mondays and Wednesdays, for instance, to be State Loyalty Meat-free Days. The Kohl household, at least seven strong, went without meat often, owing to scarcity as well as cost, but Heidi refused to be bound by a ritual. This Saturday night they might have aubergine with bacon in cream sauce or kidney pudding or sauerbraten or even an Italian-style dish of pasta with tomatoes. Always a sweet, of course. Willi Kohl liked his linzertorte and strudel. Wheezing from the walk up the stairs, he opened the door just as eleven-year-old Hanna raced to him. Every inch the little blonde Nordic maid, despite her parents' brown hair, she wrapped her arms around the large man. "Papa! Can I carry your pipe for you?"
He fished out the meerschaum for her. She carried it to the rack in the den where dozens of others sat. "I'm home," he called. Heidi stepped into the doorway and kissed her husband on both cheeks. A few years younger than he,
she'd become round over the course of their marriage, developing a smooth extra chin and huge bosom, adding pounds with each child. But this was as it should be; Kohl felt you should grow both in soul and in girth with your partner. Five children had earned her a certificate from the Party. (Women with more offspring had higher accolades; producing nine children won you a gold star. Indeed, a couple with fewer than four offspring were not allowed to call themselves a "family.") But Heidi had angrily stuffed the parchment into the bottom of her bureau. She had children because she enjoyed them, enjoyed everything about them— giving
Download


Copyright Disclaimer:
This site does not store any files on its server. We only index and link to content provided by other sites. Please contact the content providers to delete copyright contents if any and email us, we'll remove relevant links or contents immediately.