Ink and Foxglove (The Chronicles of Whynne Book 1) by Bethany Anne Lovejoy
Author:Bethany Anne Lovejoy [Lovejoy, Bethany Anne] , Date: June 11, 2021 ,Views: 33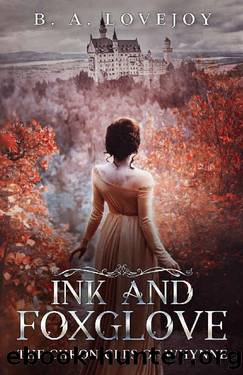 Author:Bethany Anne Lovejoy [Lovejoy, Bethany Anne]
Language: eng
Format: epub
Published: 2021-05-18T16:00:00+00:00



Winry waited at the door for me. I could see the lecture on her lips, I knew she had so much to say yet I pushed past and ignored her. "Wren, you shouldn't—"
"Don't tell me what I should and shouldn't do," I hissed. I needed to get to my room, I needed to get the journal open, and I needed to copy it as quickly as I could.
"Nikolas is—"
"I know, okay!" I snapped, barely any patience left in my body. "Winry, I know. You don't need to lecture me, you don't need to tell me it won't work—I heard, I heard what you and your parents did. Luka told me. I won't romance Nick, I get it."
The color drained from her face.
"You traded me, Winry," I said, and I kept moving. I needed to keep moving, to get out of sight before I exploded, before the book fell from my corset, or before some other monumental disaster occurred. "You traded me for a pretty garden and all of the science books you could read, I know!"
"Wren," and all of the sudden she was scrambling to keep up with me and get rid of the venom in my voice. She was secretly irritated still, I knew, because my actions threatened her perfect little world. "Wren, it wasn't me."
"It doesn't matter who it was, you made the choice not to tell me," I declared.
"Listen to me," she demanded, and she stomped closer and closer, her skin brushing mine as she reached for my shoulder. "Wren!"
I could feel my skin prickle underneath her hand, and I jerked away before she could touch me again, but I wasn't quick enough. Her hand clapped down on my shoulder for only a moment, and then—
"Argh!" She yelped, and I whirled around to look at her, her hand holding the other up as she looked at her skin with wide eyes, eyes darting up to mine. I swear I saw a wisp of smoke.
"What…?" I stopped entirely, feet unwilling to move forward.
She still stared at her hand, voice low as she stated, "you shocked me…"
Static…? I reached for her again, slowly closing the distance between us, and then—
"Ack, again!" She flinched, a crooked line of blue between us.
What…? I looked down to my hands and felt a strange tingling feeling underneath my skin. It was an accident, surely, just static… But I almost swore I could see blue ripple across my skin. A strangled breath, one that emptied my lungs completely, and the blue left. I continued to stare down at my hands, confused.
Then, as if locating the culprit, I flipped my hands over, staring at the marking on the back of one of them, seeing no difference.
"Wren," Winry's voice cut through the static. "Are you going to keep looking at your hands, or are you going to let me explain?" She began.
"I…" My eyes stayed on my hands, waiting for something else to happen. "I don't need an explanation," I concluded, shaking my head at myself, obviously the static was just that, or at least, it was passable as just that.
Download


Copyright Disclaimer:
This site does not store any files on its server. We only index and link to content provided by other sites. Please contact the content providers to delete copyright contents if any and email us, we'll remove relevant links or contents immediately.