Hunting Prince Dracula (Stalking Jack the Ripper Book 2) by Kerri Maniscalco
Author:Kerri Maniscalco [Maniscalco, Kerri] , Date: December 3, 2017 ,Views: 1743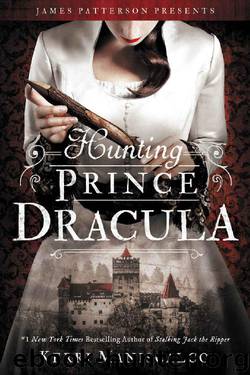 Author:Kerri Maniscalco [Maniscalco, Kerri]
Language: eng
Format: epub, mobi
Tags: Young Adult Fiction / Horror *, Young Adult Fiction / Historical / Europe *, Young Adult Fiction / Mysteries &#38, Detective Stories *, Young Adult Fiction / Steampunk *, Young Adult Fiction / Coming Of Age *
Publisher: Little, Brown and Company
Published: 2017-09-18T18:30:00+00:00



Tonga bat. Colored etching by S. Milne and Turvey.
TOWER CHAMBERS
CAMERE DIN TURN
BRAN CASTLE
5 DECEMBER 1888
Ileana stood on a rickety stool, dusting the crammed bookshelves in my sitting room when I finally made it upstairs shortly before midnight.
A pair of my boots—shining as if they'd been freshly polished—sat on the windowsill, but I didn't have the energy to ask why. Our grand foray into the master library to see what information we might glean about where the two tunnels possibly led had been fruitless. The only things we'd discovered were that Radu was even more clumsy than originally thought and that he enjoyed reading old German texts.
The Building and Grounds section had obviously not been well maintained—there were books of poetry and journals with silly tales regarding the castle and the surrounding area, but nothing useful. Not that I'd expected us to simply waltz into the library and walk off with a book neither the headmaster nor the royal guard could locate.
I closed the door behind me with a soft click. Without turning, Ileana paused, hand mid-swipe with the dust-coated rag, the wood creaking beneath her feet. The dirt on the bottom of her embroidered apron made it appear as if she'd been trudging through wet earth. I didn't want to think about what dank part of the castle she'd been forced to clean. If it were anything like the passage we'd been in, it was most decidedly wretched.
"I'm—I'm very sorry for earlier," Ileana burst out. "Thomas asked for help and I couldn't—I couldn't… I didn't want to say no to Daciana's brother. I told him it was an awful idea, but he was desperate. Love makes fools of the wisest. I can leave if you don't wish to speak with me."
"Please don't trouble yourself. I'm not upset with you. It's been a long day, is all."
Ileana nodded and went back to carefully wiping down the bookshelves. I flopped onto the settee and rubbed my temples, hoping for a bit of serenity to fall from the sky and splatter across my soul like a cleansing rain shower. If only I'd simply been upset by Thomas's attempt at reclaiming our friendship. His feigning of death felt as if it had occurred millennia ago. We had much bigger problems to contend with.
Though the bats were terrifying, I knew they weren't responsible for Wilhelm's blood loss. He certainly would have had discernible scratches on his person if they had been. Which made me all the more confident that his blood had been removed with a mortuary apparatus.
The bite wounds on my hands still burned. I wanted to soak in the tub and cleanse the lingering bat saliva and never think about those grubby little monsters again. Father would start abusing his laudanum once more if he ever found out about my exposure to such potentially disease-spreading creatures.
Of course someone would be breeding vampire bats in a castle whose most infamous occupant was rumored to have become a vampire. My initial impulse was to blame the headmaster, but being rash was the exact opposite of what Uncle would instruct me to do.
Download


Copyright Disclaimer:
This site does not store any files on its server. We only index and link to content provided by other sites. Please contact the content providers to delete copyright contents if any and email us, we'll remove relevant links or contents immediately.