Horror Films of the 1970s by John Kenneth Muir
Author:John Kenneth Muir , Date: June 16, 2017 ,Views: 6672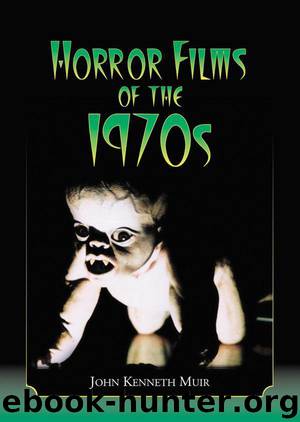 Author:John Kenneth Muir
Language: eng
Format: mobi, epub
Tags: Film & Video, Performing Arts, General, History & Criticism, General Fiction
ISBN: 9780786431045
Publisher: McFarland
Published: 2002-01-02T08:00:00+00:00



Seizure
(1974) ★ ★ ½
Cast & Crew
CAST: Jonathan Frid (Edmund Blackstone); Martine Beswick (the Queen); Joe Sirola (Charlie); Christina Pickles (Nicole); Anne Meacham (Eunice); Roger De Koven (Serge); Troy Donahue (Mark); Mary Woronov (Mikki); Richard Cox (Gerald); Timothy Oasey (Jason); Henry Backer (Jackal); Lucy Bingham (Betsy); Herve Villechaize (the Spider); Alexis Kirk (Arris); Emil Meola (Gas Station Attendant); Timothy Rowse (Milkman); Aziz (Himself).
CREW: Cinerama Releasing and Euro-American Pictures Present Seizure. Production Supervisor: Jeffrey D. Kapelman. First Assistant Director: Timothy Rowse. Second Assistant Director: Emil Meola. Camera Operator: Daniel Arzouni. First Assistant Camera: Guy Bernadese. Second Assistant Camera: Johnny Bedroussian. Grip: Michel Lauzier. Stills: Herve Villechaize. Electrician: Jacques Rousseau. Assistant Electrician: Rejean Laramee. Sound Recordist: Martin Joyal. Assistant Sound: Larry Miller. Sound Mixer: Joe Grimaldi. Sound Effects: Ken Heeley-Ray. Re-Recording: Rejean Gigier. Sound Editor: Nobuko Oganesoff. Assistant Editor: Jacqueline Boucher. Continuity: Lise Venne. Property Man: James McCelmontt. Property Mistress: Michelle Marchand. Make-up Supervisor/Special Effects: Thomas Brumberger. Wardrobe/Hair: Linda Coleman. Carpenter: Gerard Legault. Production Secretary: Rigdon Reese. Production Assistants: Richard Morris, Lucy Bingham. Edmund's Sketches: Edward Mann. Batick Paintings: Judith Aranyi. Director of Photography: Roger Racine. Art Director: Najwa Stone. Wardrobe and Jewelry Design: Alexis Kirk. Film Editors: Nobuko Oganesoff, Oliver Stone. Music: Lee Gagnon. Music Produced by: Theme Variations (Montreal). Executive Producers: Harold Greenberg, Donald Johnston. Original Screenplay: Edward Mann, Oliver Stone. Produced by: Garrad L. Glenn, Jeffrey P. Kapelman. Directed by: Oliver Stone. Made on location at Val Morin Province of Quebec, Canada. M.P.A.A. Rating: R. Running Time: 90 minutes (approx).
SYNOPSIS: A frustrated writer, Edmund Blackstone, awakens from a nightmare and is deeply disturbed because he has had the same dream many times before. Meanwhile, his wife Nicole prepares their rural estate for a visit from some of Edmund's best friends. The wealthy and obnoxious Charlie, his sexy girlfriend Mikki, and Edmund's mentor Serge and wife Eunice are among the guests. Before the festivities around the lakeside house begin, Edmund's son, Jason, becomes upset when his dog, Aziz, disappears. Edmund later finds the pet dog hanged in the nearby woods.
The weekend party begins, but something more troubling than friends appear. Three specters, all straight from Edmund's imagination, materialize to terrorize the guests. There is the Queen of Evil, the very embodiment of the dark mother goddess (Kali) of the Hindu faith, a nasty (but diminutive) king from French history called the "Spider," and a black-skinned, mute executioner known as the "Jackal." These three villains soon terrorize Edmund's guests and family.
The Queen of Evil informs Edmund and his companions that only one of them will survive the night. She then sets them out on a series of tasks in which the loser is to be executed. Charlie dies of a heart attack after being forced to participate in a race. Eunice dies at the Spider's hand, consumed by her guilty feelings regarding an infidelity. Mikki is desperate to be the sole survivor and challenges Edmund in a knife fight. Edmund kills her instead.
Serge, an old philosopher, handles his death gracefully, and walks nobly to his own execution at the axe of the Jackal.
Download


Copyright Disclaimer:
This site does not store any files on its server. We only index and link to content provided by other sites. Please contact the content providers to delete copyright contents if any and email us, we'll remove relevant links or contents immediately.