Hope Lies in the Proles by John Newsinger
Author:John Newsinger , Date: July 1, 2020 ,Views: 12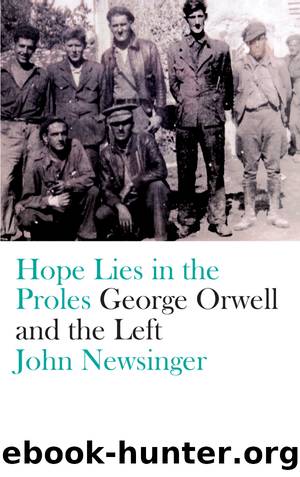 Author:John Newsinger
Language: eng
Format: epub
Publisher: Book Network Int'l Limited trading as NBN International (NBNi)



This rehearsal of conventional right-wing thinking is bad enough, but he goes on to seriously argue that the socialist movement had to face up to some uncomfortable realities:
One is that certain jobs which are vitally necessary are never done except under some sort of compulsion. As soon as you have full employment, therefore, you have to make use of forced labour for the dirtier kinds of work. (You can call it by some more soothing name, of course).
To have George Orwell of all people advocating disguising forced labour by means of a soothing euphemism certainly takes one by surprise. And it was no good people being resentful of the fact that 'the country houses and the smart hotels are still full of rich people', because even if they 'were wiped out', there would still be hardship. Once again, he had come a long way from 1940–1. Now he believed that it was vital that Labour remained in power, because only Labour could persuade the working class to make the necessary sacrifices. If a Conservative government had tried to do what Labour was doing the result would have been 'a disaster'. The TUC would never have agreed to a wage freeze if the Conservatives had been in power. It was gratitude for Labour's welfare reforms that enabled the government to get agreement for the sacrifices necessary to save British capitalism in its hour of need. If the Conservatives came to power, the country would be plunged into open class warfare and the only beneficiaries would be the Communist Party.
He went on to imagine a possible scenario where the country might even move down the road towards Nineteen Eighty-Four. He thought Britain would survive, but 'the question is whether we can survive as a democratic country . . . the main problem will be to induce people to work harder . . . without forced labor, terrorism, and a secret police force'.52 He did, of course, exaggerate the scale of the crisis and his fears of the collapse of democracy were misplaced, but all this justified his supporting a Labour government imposing austerity rather than introducing socialism. Of course, it is important not to see this particular article as in some way summing up or concluding Orwell's thinking on the subject. He continued debating with himself and others right up until his death, pulled in different directions by different concerns. Clearly when he wrote this article, the working class were seen as very much the problem, rather than the solution. Moreover, one can be reasonably sure that if it had been a Conservative government in power and confronted with this crisis, then the likelihood is that Orwell would have been condemning the timidity of the Labour Party in opposing them, calling for a new Socialist Party and advocating socialist revolution. Having embraced the Labour Party, with whatever reservations, when they were confronted with this crisis, he found himself pulled sharply, indeed, on this occasion, grotesquely, to the right. More generally, of course,
Download


Copyright Disclaimer:
This site does not store any files on its server. We only index and link to content provided by other sites. Please contact the content providers to delete copyright contents if any and email us, we'll remove relevant links or contents immediately.