His Punishment by Marie Pia
Author:Marie, Pia [Marie, Pia] , Date: March 25, 2014 ,Views: 9900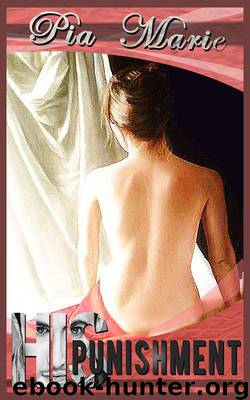 Author:Marie, Pia [Marie, Pia]
Language: eng
Format: mobi, epub
Published: 2013-07-28T23:00:00+00:00



James' Point of View
"TAKE ME!" I heard her shout at me again.
I was too stunned to move. I was just staring at Tara with my eyes wide open and my chest bouncing up and down quickly out of anticipation.
She is unzipping her dress which is so fortunately zipped in front. Once she has unzipped it wide open, I stared a little longer. She didn't step out of her dress yet and her sides are still covered. But I could see the sexy pair of red lingerie peeking out.
She loves lace. I thought as I observed her body. I can see she is as anticipating as I am.
I went closer to her not even bothering to turn off the lights. I grabbed her face with both of my hands.
"Take me." She said in a more gentle way.
I would happily oblige. Though she didn't let me finish my request of her becoming my girlfriend, I think this is her answer.
I seized her lips hungrily. I have been aching to kiss her for so long and it took me a lot of strength to refrain from kissing her downstairs.
She responds as if she knows perfectly what she is doing.
"You smell so hypnotizing Tara," I whispered in her ears before I started licking her lobes and then going down her supple neck. I gave it a couple of soft kisses and sucked lightly every time I did.
"James. . ." she was moaning my name in a faint voice and I felt myself aroused. Just the sound of my name coming from her sweet lips makes me quiver.
She placed her hand behind my head as if encouraging what I am doing to her neck. I felt her other hand stroking my back as I devour her skin.
I slowly slide her dress down to her sides and it fell to the floor so easily. I reached for her back to unhook her bra but could not find it. I then felt her hands in front of her chest and she unhooked it herself and threw it sexily on the floor.
She is now exposed in front of me. "You're so sexy." I told her as if she didn't know her own body.
I felt like I was gazing at her wonderful body for the first time. I can see her big full breasts and erect nipples. It was so tempting that I can't stop myself from lowering down to it and taking it in my mouth.
"Uhhhhhh," she was moaning as I play one of her nipples with my tongue encircling its tip.
I felt her hands go down to the buckle of my belt and unlatching it. I wriggled as she opened the buttons of my jeans and unzipped my fly. In no time, I was in my boxers.
I felt her come nearer and her hands now back in my head pushing it to go deeper as I continue sucking on her nipples.
I felt her pull me to the bed of the guest room. In seconds she was lying on the edge of it.
Download


Copyright Disclaimer:
This site does not store any files on its server. We only index and link to content provided by other sites. Please contact the content providers to delete copyright contents if any and email us, we'll remove relevant links or contents immediately.