Heartless Knight (Sins of Knight Mafia Trilogy Book 2) by Violet Paige
Author:Violet Paige [Paige, Violet] , Date: August 6, 2020 ,Views: 314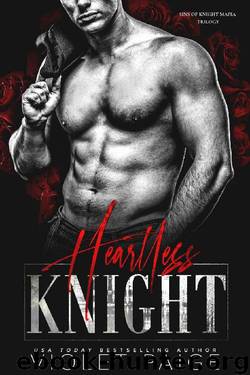 Author:Violet Paige [Paige, Violet]
Language: eng
Format: epub
Published: 2020-05-31T23:00:00+00:00



10
Knight
The coffee was poured. There were croissants piled high on a tray along with bacon and egg-white omelets delivered by Bella. Kimble spoke to Kennedy by phone. It didn't sound like he was happy about it, but she stood her ground, insisting an in-person meeting wasn't necessary. She had lost part of the fence at the rear of the property. He was worried about the security sensors. I didn't see why he had to bother her with small details. He should just do his fucking job and keep her safe.
Kennedy peeled off the end of her croissant and nibbled on it.
"Who goes first?" she asked.
I refilled our coffee cups to the top. "I'm sure you want to know about Crew."
She nodded. "I do. You owe me the entire story. You can't leave anything out."
"Okay. Okay. I know how it works, babe."
She blushed. "Sorry. I'm feeling uneasy about what this could be about. I don't like it."
"Which part? That you don't have all the information?"
She pressed her pretty lips together. "Of course, that part. Crew is someone I trusted until now. It feels like he's been keeping something from me. How can I trust him after that?"
"You can still trust him," I stated.
Her eyes widened. "You seem confident when you say that."
"I am. Our meeting was personal. It wasn't business."
She shook her head. "That doesn't make any sense. He works for me. He is my assistant. The person closest to me at work. How could it be personal? Nothing about this makes sense."
"No, it didn't make sense to me either at first. I needed time to accept it. To process what he and Seraphina told me."
"Your sister? I can't imagine what she would have to do with this."
I nodded. "Our meeting was about them. It's not what you think. I doubt you'd be able to predict what I'm about to say." I couldn't believe I was going to tell her about Crew and Seraphina, but it was going to take Kennedy's backing to make this work for everyone involved. Without her, Crew wouldn't survive.
I hesitated. If this backfired, I was putting my sister and Crew in more danger.
"Knight, aren't you going to tell me?" She searched my eyes for an answer.
I was going to place my sister's life in her hands.
"I trust you." Our gazes locked. "Nothing proves that more than what I'm about to say." If I couldn't trust Kennedy now, who could I trust? I didn't have time to assess exactly where her head was. I had to believe that she would protect my sister the same way I would.
She blinked, the greens in her eyes softening with concern. "You can tell me."
"Seraphina and Crew need our help. I have to get my little sister out of New Orleans. She wants to go to France and take over the vineyards. Run the champagne caves. But I'm not sure that's the safest place for them."
"I must have missed the part where you told me why." She stared at me.
I rubbed the back of my head.
Download


Copyright Disclaimer:
This site does not store any files on its server. We only index and link to content provided by other sites. Please contact the content providers to delete copyright contents if any and email us, we'll remove relevant links or contents immediately.