Heart: You're Dead to Me Now by Aaron Leyshon
Author:Aaron Leyshon [Leyshon, Aaron] , Date: September 17, 2020 ,Views: 13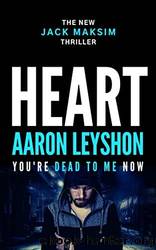 Author:Aaron Leyshon [Leyshon, Aaron]
Language: eng
Format: epub
Publisher: Rogue Kitten Media LLC
Published: 2020-02-28T22:00:00+00:00



36
Broken Hill
Maksim pulled into Isabella's street. Lights and sirens blaring. Two hoods hung around near a car under a tree on the hill and ducked down behind it. Jack ignored them. He couldn't believe she'd just hung up like that. Someone was inside her place, she'd said. And then nothing. Silence. Why hadn't she answered his calls? Why hadn't she called him back? Couldn't she tell he was going crazy? Didn't she know what this case meant to him? What she meant to him? What his daughter meant to him? It felt weird turning it over in his brain, Jack couldn't believe Sofia was his daughter.
The tires gripped into the road, and the brakes gripped into the wheels. A screeching came over the engine and he shut off the sirens and left the lights flashing. He was halfway up her driveway. Halfway to her house. When an automatic light lit the surrounding night. It was the kind designed to deter thieves and overeager policemen. Jack froze. He could hear voices in the house, but couldn't make them out. He heard a screen door slam shut out the back. He relaxed. Cooled himself. Reigned in his stress and put a calm face on, pulled the emotion back and let the panic subside. He straightened his back and continued, slowly now, up the driveway. It would be a mistake to go in too heavy. To barge in on her. To be too needy. But Christ, he had a right to be needy, didn't he?
He glanced down the side of the house. A dark fence stared back at him.
Her front door was blue. Dark blue. The kind that you'd find in a child's paint set. Not too dark, not too light. He'd put so much off in his life. Sacrificed so much in his pursuit of love. No, not love. Revenge. And now he was close. Close to love. Closer than ever to Mae's killer. And closer to himself. He shuddered. He hadn't ever let those thoughts in. He didn't know what he was facing. He only knew the accident, and Mae's horrific murder. He'd imagined these two things would be with him forever, but what if they weren't?
Jack had looked into Isabella's file. Gone over it with a fine-tooth comb. There were few entries, but she shouldn't have had a file. She was a teacher. And child safety concerns should not have been showing up at all. Especially where it concerned his daughter.
Maksim sucked in his chest. He heard pebbles scattering down the side of the house. He glanced down there again. A pink naked foot disappeared on the other side of the fence. A man? A woman? Was she seeing someone else?
He froze. He could feel eyes watching him in the dark. The hairs on his neck stood up. His heart sank. His posture disappeared, and a violent tiredness came over him. His crow's feet deepened, and he stared down at the pebblecrete driveway. So many colors. So many stones. So many avenues unpursued, so many connections lost, and ideas abandoned.
Download


Copyright Disclaimer:
This site does not store any files on its server. We only index and link to content provided by other sites. Please contact the content providers to delete copyright contents if any and email us, we'll remove relevant links or contents immediately.