Growing &Usin Herbs Successfully by Jacobs Betty E. M
Author:Jacobs, Betty E. M. , Date: June 24, 2022 ,Views: 105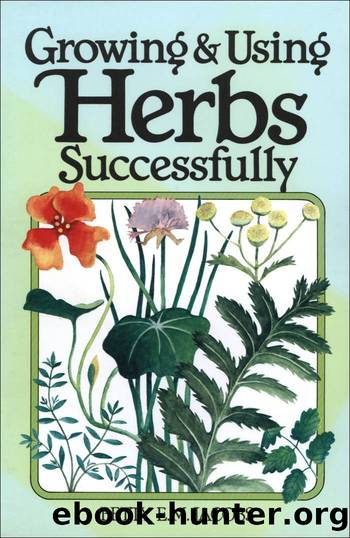 Author:Jacobs, Betty E. M.
Language: eng
Format: epub
Publisher: Storey Publishing, LLC
Published: 2013-02-07T16:00:00+00:00



Irrigation
No matter what your rainfall, you will need to set up efficient methods of irrigation. To grow most herbs intensively and commercially you must be able to have water when you need it, to produce your crops ready for marketing at the time that you want them. I am not suggesting that you can go against nature, and produce anything and everything out of season (though much can be done which is completely "unnatural"), but I am suggesting that you can give nature a little helping hand to make things more profitable for you.
There are a number of irrigation systems available to you if you have piped water. City water, though at times expensive to use, at least has the advantage of being available year 'round. The exception is during periods of drought when restrictions on water use sometimes come into force—so consider a supplementary source of supply.
If you are fortunate enough to have an all-year stream running through your property, you could use a hydraulic ram (a very old invention) to pump water to a storage tank, from which it would be piped to where it is needed. Its only moving parts are a pair of valves, and operating costs are nil. I have seen hydraulic rams in Argentina which are still in operation after more than 50 years of continuous use.
A windmill can also be used to pump water at very low cost from a well to a storage tank. A major United States manufacturer is Dempster Industries Inc., P.O. Box 848, Beatrice, Nebraska, 68310.
To make use of a pond or reservoir as a water supply, you will need a small gasoline-or electric-powered pump to take the water where you need it.
You will have to choose a water distributing system according to your garden's needs and your available cash. One of the simplest, and which we found the most effective for small-scale work with the strip beds, is a soft vinyl sprinkler hose. You can start with two or three, and as you can afford them, add to that number, so that eventually every bed which needs watering will have its own hose. This avoids the constant moving of the hoses, which can not only cause wear and tear on the hoses, but can easily damage the plants in the beds.
One can also restrict the watering to individual beds, and keep it off others which do not require watering. These hoses make the most of the water you use by putting it where you need it. Conversely, the pressure can be raised to water several beds at once if you wish to. These hoses also have the advantage of working efficiently where water pressure is low.
The rotating "Rainbird" sprinkler head, a particularly efficient brand, is excellent for large areas, and can be adjusted to throw an arc of water where you want it. For field-type planting (rather than beds), it is ideal.
Canvas soaker hoses, another type available, we did not find as good as the "sprinkler" hoses. They tended to clog with soil.
Download


Copyright Disclaimer:
This site does not store any files on its server. We only index and link to content provided by other sites. Please contact the content providers to delete copyright contents if any and email us, we'll remove relevant links or contents immediately.