Goblin Slayer, Vol. 7 (light novel) by Kumo Kagyu
Author:Kumo Kagyu , Date: December 7, 2019 ,Views: 236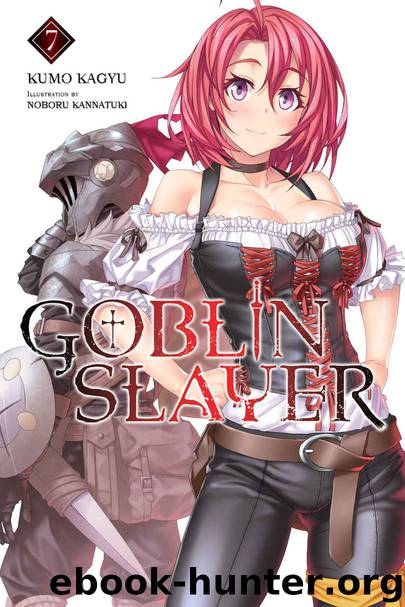 Author:Kumo Kagyu
Language: eng
Format: epub
Publisher: Yen Press
Published: 2019-05-20T16:00:00+00:00



Trees fell. Howls sounded.
The beast came on, its fangs going everywhere, trying to kill anyone and anything it laid eyes on; it paid no heed at all to the goblins on its back.
If the little devils' objective was to put the spurs to this monster and drive it mad, they had accomplished their mission.
But as if they still thought of the monster as their mount, they continued to hold the reins and spit abuse at it. Not that any amount of blathering from some goblins would change anything.
Mokele Mubenbe was not that kind of creature.
"GOO! GRRB!!"
"MBEEEEMMMBE!!"
It remained, however, a creature that threatened the elvish homeland.
The giant came thundering through the forest, ever closer to the village.
If they ride that thing into the middle of the village…!
But the elves who dashed among the trees, trying to keep an eye on the situation, could not readily do anything about it. They called upon the sprites of the earth and the trees to help them, throwing barriers up in its path. Mokele Mubenbe smashed through them easily, but it was far better than nothing.
Hardly any of the elves loosed an arrow at the god-beast.
Or, they weren't supposed to…
"Hnn—yah…!"
High Elf Archer, moving like a gust of wind, was one of the few exceptions.
She dashed along a branch, swung on a vine, flung herself through space, and then, with an elegant motion, sent a bud-tipped bolt flying.
It sliced through the air but then bounced off one of Mokele Mubenbe's back fins with a thump.
"…Grr."
Her foe moved quicker than she had expected.
Those elves who were her elders raised a chorus of outrage toward their impetuous younger sister, but High Elf Archer didn't get distracted by her mistakes. She licked her lips briefly then kicked off the ground, then the bark of a tree, and in an eyeblink, she was picking up speed again.
She caught up to the gray monster with no effort at all, whereupon she leaped up into the branches, grabbing at the moss on the bark.
"I know it's not exactly polite, but… Yah!"
Using a hand and a foot, she sprang forward, maintaining her poise, while with her other hand, she grasped her bow and put an arrow in her mouth. She drew the bowstring back with her teeth and let it loose.
"GOORB?!"
There was a scream.
The bud-tipped arrow had woven neatly past the plates on Mokele Mubenbe's back and pierced one of the goblin riders through the eye. The creature, with the bolt lodged in his right eye, writhed and screeched until he fell off the monster's back and was crushed. All that could be seen underneath Mokele Mubenbe's foot were four limbs.
"It went that way!"
"Hmm!"
It was Lizard Priest who responded to High Elf Archer's somewhat panicked shout. He planted both feet on the earth, spread his arms, and blocked Mokele Mubenbe's path.
A rampaging beast was heading through the forest straight at him, yet not one scale shivered; not one muscle in his tail twitched.
"A fit and glorious opponent this is. Shall we have a
Download


Copyright Disclaimer:
This site does not store any files on its server. We only index and link to content provided by other sites. Please contact the content providers to delete copyright contents if any and email us, we'll remove relevant links or contents immediately.