Fundamentals of Contract and Commercial Management by Fundamentals of Contract & Commercial Management
Author:Fundamentals of Contract & Commercial Management , Date: June 30, 2020 ,Views: 167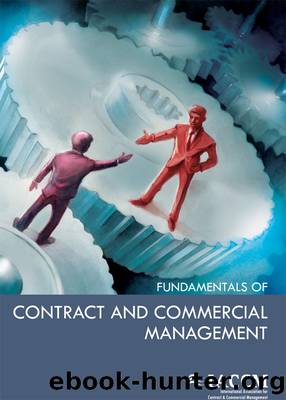 Author:Fundamentals of Contract & Commercial Management
Language: nld
Format: epub
Publisher: Van Haren Publishing
Published: 2013-06-14T16:00:00+00:00



Charges and payment
The services contract must specify how the charges will be calculated. If the service is extremely well defined or repetitive in nature the pricing may be fixed for the deliverable. Examples of this would include a fixed rate for weekly trash removal or a fixed cost for setting up a new computer and installing a suite of software products for a business.
In situations where the scope is not well defined or the level of effort may vary, hourly rates are generally specified. These may also fall within a range based on individual expertise, licenses, or certifications. Examples of this include engineering services where a licensed professional engineer bills at a higher rate than an engineer or where a qualified plumber would bill more than an apprentice.
Contracts may specify both methods, particularly in the case of a large agreement covering multiple types of service. In this case there must be a clear distinction between the services that are included in the fixed price and those that are billed on an hourly basis. A process for adding fixed price elements may also be included.
For extended term contracts any allowed rate changes should be specified—for example, annual increase in rates in line with agreed indices. Frequently pricing caps are included that limit the price escalation to a certain percentage. It is important to remember the purpose of negotiating a price cap. A buyer wants to exercise some certainty and control over rising costs, but an unreasonable escalation factor may cause a vendor to eventually deploy less experienced labor. This could cause a disruption in service quality.
Payment terms vary as much as the services they cover. Hourly service contracts may be billed monthly on the basis of hours expended. Fixed costs may be billed on a recurring basis for the number of times the service was performed.
'Milestone billing' is a concept that is found mainly in services contracts. For contracts where the final deliverable is something that may be developed over a period of time, it is not uncommon for payment to be tied to the completion of certain milestones. If an end-product is an environmental assessment report, for example, the payment terms may be 60 percent upon completion of the first draft, 25 percent upon completion of any revisions, and the final payment upon acceptance of a final report.
As explained in the description related to the sale of goods, acceptance is not a unique requirement of services contracts. However, because service contracts generally define relationships, there is sometimes a question as to the acceptability of a deliverable. Many contracts specify that services are rendered and deemed accepted at the time performed. Others, especially those tied to milestones, may allow some verification by the buyer that the work meets predetermined quality standards.
If an acceptance test or period is defined in the contract the criteria should be explicit. These agreed-to criteria should detail both parties' obligations relative to the performance of the deliverables. Suppliers will want the acceptance period to be brief so that payment is not withheld for an extended period.
Download


Copyright Disclaimer:
This site does not store any files on its server. We only index and link to content provided by other sites. Please contact the content providers to delete copyright contents if any and email us, we'll remove relevant links or contents immediately.