Extreme Food - What to Eat When Your Life Depends on It... by Bear Grylls
Author:Bear Grylls , Date: November 29, 2017 ,Views: 1277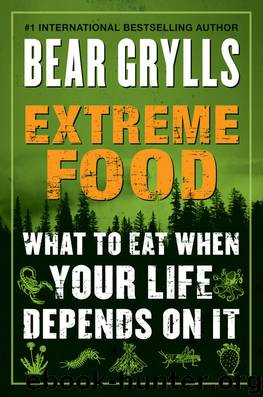 Author:Bear Grylls
Language: eng
Format: azw3
ISBN: 9780593074367
Publisher: Transworld Publishers Limited
Published: 2014-10-23T20:42:16+00:00



* * *
You can find seals in the Arctic as well as the Antarctic. Arctic seals, however, are a major food source for polar bears. Where you find one, you often find the other. And it's not unheard of for polar bears to kill seal hunters.
* * *
SEALS
Don't be fooled by a seemingly recumbent seal. Large specimens can be aggressive: they can rear up and attack you. In a survival situation, your best bet is to go after seal pups. They can't swim and can easily be despatched by a sturdy club on the head. (Many are killed like this by seal hunters – you might have seen the tragic footage of this brutal over-hunting, so you really must only consider this to be an option in a genuine survival situation.) Alternatively, you can find a seal hole in the ice and wait for an adult specimen to come up for air before spearing it – but it's a hard way to catch your supper, requiring plenty of patience (and if you've spent a long time without food, time might not be on your side).
There's a lot of good meat on a seal – make sure you cook it first, though, as it can harbour a nasty parasitic worm that causes trichinosis. Don't eat the liver – in common with polar bears (which I don't recommend you think of as a food source, because they're up there with crocs as one of the most dangerous animals in the world) it contains a toxic level of Vitamin A. There is a lot of blubber on a seal, too, which you might at first be tempted to eat for the calories. But be careful: your body will need a lot of water to process that fat. You can also render the fat down to use as fuel.
Download


Copyright Disclaimer:
This site does not store any files on its server. We only index and link to content provided by other sites. Please contact the content providers to delete copyright contents if any and email us, we'll remove relevant links or contents immediately.