Exploring Alaska (The Juneau Packs Book 3) by Katherine Rhodes
Author:Katherine Rhodes [Rhodes, Katherine] , Date: June 12, 2019 ,Views: 78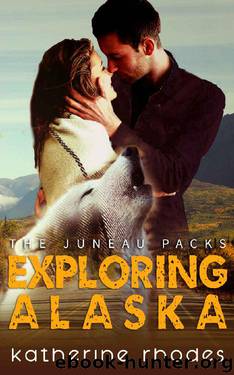 Author:Katherine Rhodes [Rhodes, Katherine]
Language: eng
Format: epub
Published: 2019-04-08T16:00:00+00:00



Chapter Eleven
She could.
She totally could. I never saw Zanna as pissed as she was when she went tearing out the front door the next afternoon.
"That could have gone better." I sighed.
"That's probably an understatement," Jess agreed.
"Are you guys doing anything this weekend?" Delia asked.
Jess, Brandy, and I turned and stared at her.
"What?" She was confused. "Honest question."
"You're not disturbed by the fact that one of your best friends just called all of us motherfucking, cocksucking, twatwaffled assholes?" Jess blinked a few times.
"Not really. She's pissed and when she's pissed she swears like a sailor. Whatever, she'll come back. She's pissed because she knows we're right." She glanced at each of us. "So? Are you busy? Jason wants to take us all kayaking and it seems like a perfect chance."
"Are you inviting Zanna?" Brandy asked.
"Of course. I'll text her later."
I shrugged. "I'm not busy. Patrick has some class he has to teach on Saturday, so I'm free most of the day."
"I'm good, too," Brandy said. "None of my booty calls have called, so that's that."
"Garrett has some stuff he and his father have to take care of with regards to the compound and his being the Al—chief, so I don't think I'm invited to that. I'll be there."
"Good, cool," Delia said. "I'll tell him we need five kayaks for the whole day."
"Won't that take away from his income?"
"Nope." She shook her head. "He doesn't have a lot of weekend business in the summer. He runs a lot of the cruise ship stuff. Plus, I can always write Cora a check."
"Cora?" I asked.
"His sister. She's cool. I like her. Hey." She cocked her head. "Why don't we ask her along?"
"Well, we could ask Tati along too," Jess said. "It could be a cool girls' day out, but with a guide." She stuck her finger out at Delia. "No sneaking off for a quickie behind a tree."
"Ruin my fun," Delia huffed. "Deal, though. Let's do it."
"Perfect," I agreed.
"I do need to get back down the hill," Jess said. "There's a dinner tonight and I need to be there."
Well, shit. So did I.
Delia scratched her head.
"Brandy, you gonna be okay if we all head down to St. Terese?" Jess asked. "I don't want to necessarily abandon you here…"
"Nah, I'm good. I got books and bad movies. And you're right. Zanna will be back as soon as she cools off. I'm fine."
She really seemed to be okay, from what I could tell of her. I didn't feel too bad leaving the cabin.
"Lock the doors," Jess called.
"And hope they don't have blasters," Delia added.
"You ass." I laughed. "Don't let the big bad wolves in, how about that?" I pulled the door closed.
"Yeah, because you wouldn't swing that fucker right the hell open for your big bad wolf," Delia grumbled teasingly under her breath.
I fell down the stairs. The whole four stairs of the porch to the ground. "What did you say?"
Delia and Jess jumped down the stairs to help me to my feet. "Are you okay?" was the best I could make out of their flurry of questions.
Download


Copyright Disclaimer:
This site does not store any files on its server. We only index and link to content provided by other sites. Please contact the content providers to delete copyright contents if any and email us, we'll remove relevant links or contents immediately.