Everybody by Olivia Laing
Author:Olivia Laing [Laing, Olivia] , Date: May 6, 2021 ,Views: 57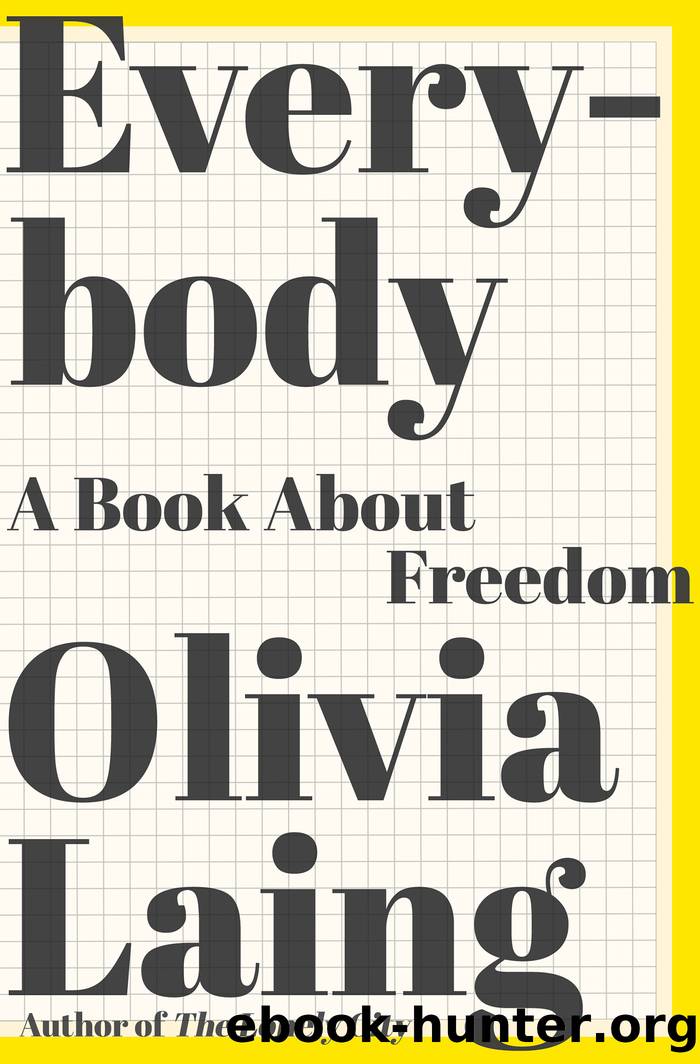 Author:Olivia Laing [Laing, Olivia]
Language: eng
Format: epub
Publisher: W. W. Norton & Company
Published: 2021-01-11T00:00:00+00:00



*
To be born at all is to be situated in a network of relations with other people, and furthermore to find oneself forcibly inserted into linguistic categories that might seem natural and inevitable but are socially constructed and rigorously policed. We're all stuck in our bodies, meaning stuck inside a grid of conflicting ideas about what those bodies mean, what they're capable of and what they're allowed or forbidden to do. We're not just individuals, hungry and mortal, but also representative types, subject to expectations, demands, prohibitions and punishments that vary enormously according to the kind of body we find ourselves inhabiting. Freedom isn't simply a matter of indulging all material cravings, Sade-style. It's also about finding ways to live without being hampered, hobbled, damaged or actively destroyed by a constant reinforcement of ideas about what is permitted for the category of body to which you've been assigned.
The realisation that embodiment is more dangerous or oppressive for some people than others is what drives liberation movements, but it might also have formed part of the lasting appeal of Buddhism for Martin. Zen and Taoism were enormously popular in the counterculture of the 1950s, and Martin was an ardent student, practising in her own idiosyncratic way for the rest of her life. In the 1970s, she started giving lectures and writing essays that focused not so much on her paintings as the spiritual lessons she wanted them to convey, a cross between Buddhism and the rigid Presbyterianism of her childhood. Her reputation as a desert mystic stems from these hypnotic, repetitive homilies, which return again and again to the freedom that comes when you turn your back to the world.
Buddhism teaches that the material realm is an illusion and that servicing the body's clamorous demands leads only to suffering. As Martin put it in 'The Untroubled Mind', her long essay on art making and inspiration: 'the satisfaction of appetite happens to be impossible' (itself Freud's argument against the absurdity of sexual pleasure as a guiding impulse). In this vision of the world, renunciation, silence, denial – themselves the watchwords of the closet – are not ways of avoiding life but of entering the liberating dimension of the spiritual, where, in the lovely words of the Heart Sutra, 'form is only emptiness, emptiness only form.' Freedom is a consequence of relinquishing the material world. It's the same magical dematerialisation her paintings enact – painful categories abolished, dangerous bodies left behind.
In August 2015 there was an exhibition of Martin's work at Tate Modern, the old power station transformed, just as Terry Castle had suggested, into a vast orgone box. When I went it was raining. My friend was late and I waited in the vestibule by the white birches, looking out over the river as a tide of damp people filtered gratefully through the doors, many of them dressed in transparent macs. No one stood out. Everyone had been anonymised by the weather.
Walking into the gallery was like stepping off a ledge into deep water.
Download


Copyright Disclaimer:
This site does not store any files on its server. We only index and link to content provided by other sites. Please contact the content providers to delete copyright contents if any and email us, we'll remove relevant links or contents immediately.