Driving Me Crazy: A Rock Star Rom Com by Lisa Suzanne
Author:Lisa Suzanne [Suzanne, Lisa] , Date: September 17, 2020 ,Views: 9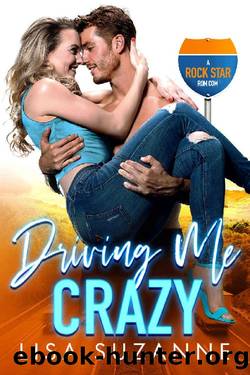 Author:Lisa Suzanne [Suzanne, Lisa]
Language: eng
Format: epub
Publisher: Books by LS, LLC
Published: 2020-03-22T00:00:00+00:00



CHAPTER 24: WILL
After breakfast, I take a shower.
Her bottle of shampoo is still in there, and I can't help myself. I flick open the lid and breathe it in.
I've smelled it across the car for days now, and every time I catch a whiff, a knife twists in my gut. This time is no different, but I'm also naked and in the shower and remembering what it's like to fuck her.
I squirt a little of the shampoo on my hand and rub it between my fingers. It's sudsy, and it smells like the sweetest, most succulent raspberries, and fuck I want her back.
My dick wants her.
Speaking of my dick, he shows up to join my shower party, rising up to a full salute.
My hand is all slick from the raspberry shampoo and the smell that reminds me of her fills the small, hot, wet shower.
I fist my dick in my hand and fuckkkk it feels so good. I've jerked off plenty of times and in plenty of places while thinking about plenty of women, but this time it's all about Amber.
Her gorgeous blonde hair that smells like this very shampoo.
Her big, brown eyes that look at me with lust and hatred and love and everything in between.
Her brain that's too smart for its own good sometimes. The way she can make me laugh harder than I've ever laughed and hurt me more than I've ever been hurt.
I put the hurt out of mind and focus on the good times.
I think about the other night, when she let me take her over that bed in Amarillo. I slammed into her, and as I picture it, I move my hand down my shaft. As I remember pulling out of her, I slide my hand up. I think of her gorgeous tits and what a handful feels like, her nipple rubbing against my palm as I fucked her good.
I pump my slick hand up and down, and it doesn't take long before my balls draw up and my body feels ready to burst. A dart of fire burns through me, and I quicken my pace before pulse after pulse causes jets of come to shoot out my dick.
Luckily I'm in the shower. Easy clean-up.
But for as many times as I've done this, for some reason this time I'm left with a strange feeling of guilt.
Maybe we should've stayed in St. Louis a little longer. It felt like somewhat of a breakthrough.
I lashed out at her last night because I was about to throw her on the bed and fuck her good and hard. But then I remembered how I felt yesterday morning, all that regret that washed over me when I saw her sleeping in the bed we banged over the night before, and I knew I couldn't do that to her again.
It was why I slept on the couch.
I was terrified that if I got into bed with her, I wouldn't be able to keep my hands to myself.
Yeah, I'm still in love with her.
Download


Copyright Disclaimer:
This site does not store any files on its server. We only index and link to content provided by other sites. Please contact the content providers to delete copyright contents if any and email us, we'll remove relevant links or contents immediately.