Down the Hall by Ash Kreff
Author:Ash Kreff [Kreff, Ash] , Date: May 5, 2021 ,Views: 36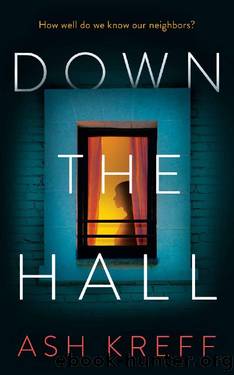 Author:Ash Kreff [Kreff, Ash]
Language: eng
Format: epub
Published: 2021-04-30T23:00:00+00:00



TWENTY
There's no place like home, thinks no man ever after returning from a night like the one Alex just had.
He knocks on the door to his apartment three times, reluctantly. No answer. His palms sweat. Mindlessly, he places his hand on the doorknob and twists, his heart beating fast as the door…opens?
Was it unlocked last night? Did he even try to open it when he got home? Sure enough, he can't remember…as if he doesn't feel like enough of a fool already.
"Hello?" he says.
No reply.
He calls out again, "Hello?"
He feels like a stranger, lingering nervously, awkwardly, in the doorway.
He sees Maddie's keys aren't in the dish on the counter. Does that mean she's not home? Maybe she didn't come home last night either. And that would mean she doesn't know that he didn't come home last night. He smiles at the thought, for a moment, but then starts to worry…what if she didn't come home last night?
He looks around, anxiously. He tells himself to relax. You're home now. Nothing's changed. But that's not true.
He left last night feeling comfortable and secure, thinking he was just going out for a quick drink, doing a friend a favor. And now he's back, feeling completely guilt-ridden.
He heads to the bedroom. Why he feels the need to step quietly, like someone may pop out from behind every turn, every corner, he's not sure.
Relax, he tells himself again.
The bed is perfectly made. The comforter is wrinkle-free and the pillow shams are in place. He sighs. Maddie definitely didn't sleep at home last night. This is his bed-making, not hers. She never uses the fancy shams. "Unnecessary," she calls them.
The relief he feels when he realizes she didn't come home is equally balanced by worry. And worry on top of paranoia is not a good combination. He tries to calm himself down with logic, telling himself that she must have stayed at Paige's, that she probably had too much to drink and crashed.
"That's not unusual," he says out loud.
Mads probably texted to let him know, but of course he didn't get the message because he didn't have his phone. And when he didn't respond, she likely assumed he had already gone to bed.
Yes, that's what happened.
He jumps in the shower, turning the water as cold as he can get it. He scrubs his body, hard, willing the disgrace to fall off with the dead skin. When he's done and rubbing a towel over his hair, he hears a small voice cut through the steam behind him.
"Hi."
He steps back, tripping over his feet and nearly falling over. Clumsiness is par for the course right now. He hears Maddie's laugh and turns around. It's time to face her.
"What's wrong with you?" she asks.
He's trying to figure that out himself.
"I texted to let you know I was on the way."
Of course she did. He steps closer to his girlfriend. He hates that her smell now reminds him of Brooke.
"Come here," he says, pulling her in for a hug.
Download


Copyright Disclaimer:
This site does not store any files on its server. We only index and link to content provided by other sites. Please contact the content providers to delete copyright contents if any and email us, we'll remove relevant links or contents immediately.