Coalescence (Dragonfire Station Book 3) by ZEN DIPIETRO
Author:ZEN DIPIETRO [DiPietro, Zen] , Date: August 4, 2021 ,Views: 68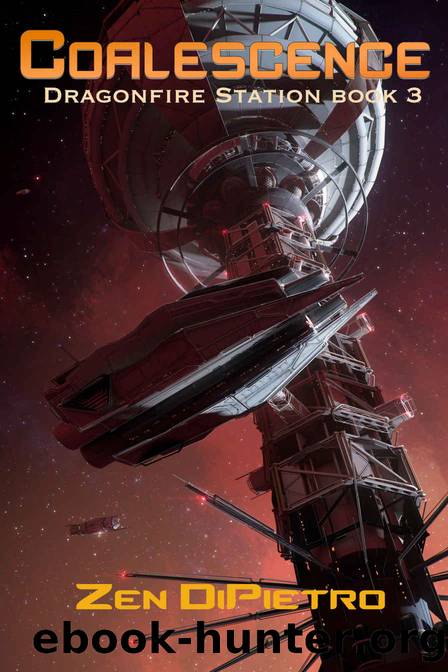 Author:ZEN DIPIETRO [DiPietro, Zen]
Language: eng
Format: epub
ISBN: 9781943931071
Publisher: Parallel Worlds Press
Published: 2017-02-05T00:00:00+00:00



Sometimes you go looking for something you don't want to find, and then you find it. It only took a few hours for Fallon to unravel this particular knot. But now that she had, she needed some time to think about her next steps.
She gave herself the night to mull it over. The next day, she'd have to act on what she'd found. It would have both personal and professional ramifications. She wanted to be alone to give it some deep thought, but she didn't want to be in her quarters or her office. Going to the boardwalk was out of the question. But she knew the perfect place, with no risk of interruption.
Her serious expression and brisk pace kept anyone from sidelining her as she walked through the station, and she avoided areas likely to be well populated. On Deck Five, she bypassed the crew quarters to head straight for the center of the deck. Several layers of security later, she stood alone in crisis ops control. It seemed like a fitting location, and absolutely no one would come here. She'd run training drills in crisis ops, but a situation had never arisen to warrant using it for real. It would have been exciting if one had, but she cared deeply about this community, and was glad one hadn't.
Crisis ops had half the space of the regular ops control and was stocked with emergency medkits and rations of food and water. Weapons too. Stingers, low-grade projectile weapons that weren't a risk for hull puncture, and edged weapons.
She really hoped Dragonfire never saw an event that required the use of this room.
She eased into the command chair. It wasn't as comfortable as the one in regular ops, but she didn't care. She wasn't there for comfort. She needed to think about the decisions she'd made in the past couple of years. She analyzed everything, trying to determine whether her actions had caused her current troubles. Whether she'd missed something that would have changed everything.
She couldn't be sure. Had she been blind? Had she helped create this entire situation?
Download


Copyright Disclaimer:
This site does not store any files on its server. We only index and link to content provided by other sites. Please contact the content providers to delete copyright contents if any and email us, we'll remove relevant links or contents immediately.