Christmas in the Crosshairs: Two Thousand Years of Denouncing and Defending the World's Most Celebrated Holiday by Gerry Bowler
Author:Gerry Bowler [Bowler, Gerry] , Date: March 28, 2020 ,Views: 210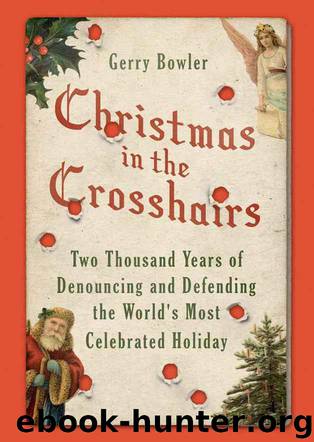 Author:Gerry Bowler [Bowler, Gerry]
Language: eng
Format: epub
ISBN: 9780190499006
Publisher: Oxford University Press
Published: 2016-09-12T23:00:00+00:00



The Appropriators
In which a multitude of interest groups, often at the margins of society, attempt to use Christmas to promote their viewpoints
christmas is the biggest single event on the planet. No sports tournament, war, stadium rock tour, viral media sensation, or global marketing campaign affects as many people around the world every year as Christmas. It is a phenomenon that engages billions of people who are caught up in its commercialism, music, sentiment, travel, and busyness whether they personally celebrate the holiday or not. It is, therefore, not surprising that it has been seized on continually by groups, often at the margins of society, who would like to bring attention to their particular causes. The Christmas season is wreathed in powerful themes that tug at people's emotions—generosity, reconciliation, family, community spirit, connection with a treasured past, and so on—and clever minds have been quick to try to appropriate these meanings in their struggles for public attention. Commercial advertisers are, of course, the greatest force that muscles in on the season and turns it to their own ends.1 Right behind the merchants and manufacturers come politicians, who may always be found beside the state Christmas tree, sending out tens of thousands of holiday cards, or linking Christmas with the current war, as in the case of post-9/11 America.2 In the British Commonwealth the annual broadcast message from the ruling monarch has been a Christmas Day tradition since George V first gave it in 1932. A plethora of scholarly work has charted these associations;3 therefore, this chapter will concentrate on the voices from the margins, eager to be heard amid the seasonal clamor and using the Christmas moment to do it.
Download


Copyright Disclaimer:
This site does not store any files on its server. We only index and link to content provided by other sites. Please contact the content providers to delete copyright contents if any and email us, we'll remove relevant links or contents immediately.