Blackfeather - The Untold Stories by Nel Ashley
Author:Nel Ashley [Ashley, Nel] , Date: January 14, 2021 ,Views: 18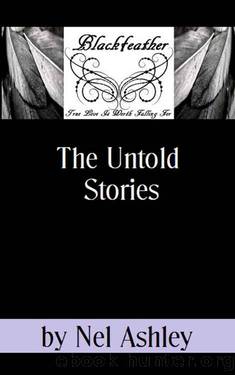 Author:Nel Ashley [Ashley, Nel]
Language: eng
Format: epub
Publisher: Worlds Away Books
Published: 2015-04-02T23:00:00+00:00



Felicity's Tale 1743 - 1755
27th June 1755
The house in which Felicity lives is occupied by spirits that neither know how to move on, nor want to. They are drawn here by the dark magicks of Felicity's father. Doctor Underwood is one of those men who dabble in the occult arts for personal gain and power over others and he uses the souls of the departed to gain it.
A quiet and withdrawn child, Felicity is haunted by the whisperings of unseen forces. At twelve years old she doesn't understand why she wants to avoid the dark and shadowy corners of the house; only that they make her feel watched and afraid. She has no knowledge of the things her father conjures up and is forbidden to enter his study.
I remain hidden from her whilst doing all I can to protect her, but a child's curiosity often gets the better of them no matter what their fears and Felicity is no different in this. Awoken by strange sounds coming from the room below, she creeps out of bed and tiptoes down the stairs with only the light of the night candle from her bedside table. The flame trembles as she holds it out before her in a shaking hand.
At the bottom of the stairs she puts her ear to the door and listens. It is her father's voice she can hear, intoning words that make no sense and wide eyed with terror she begins to turn away and hurry back to bed, but hovering behind her is the shade of someone she knows.
It is her dead mother, arms outstretched to her little daughter, beseeching her to come into her cold arms.
I put myself between Felicity and the ghost and the woman flees with an ethereal cry, but Felicity stumbles back from her mother's dreadful features and bumps into the door of her father's study.
Immediately, there is silence from beyond then footsteps and the door is flung open, Felicity's angry father stands framed in the doorway, made all the more terrifying for the blazing light that spills into the hallway from within.
He grabs her wrist and no matter how she twists to be free his grip is too strong to escape. He drags her into the room and slams the door shut.
"How dare you creep about in the middle of the night," he yells at her. "What do you mean by spying on me, child?"
Felicity cowers at his feet, but finds enough courage to speak.
"I wasn't spying, Papa. I heard a noise and came to see what it was and as I was returning to my room I saw… I saw…"
She breaks down in tears.
"What did you see?"
"I saw Mama," she whispers. "She wanted to take me away to where the dead people go. I was afraid, but…"
And then she lowers her head for a moment. When she looks up her eyes are shining with wonder.
"But then an angel saved me."
I knew I had not made myself visible to Felicity's eyes, only to
Download


Copyright Disclaimer:
This site does not store any files on its server. We only index and link to content provided by other sites. Please contact the content providers to delete copyright contents if any and email us, we'll remove relevant links or contents immediately.