Big Bank (v1,0) by Unknown Author
Author:Unknown Author , Date: August 6, 2022 ,Views: 3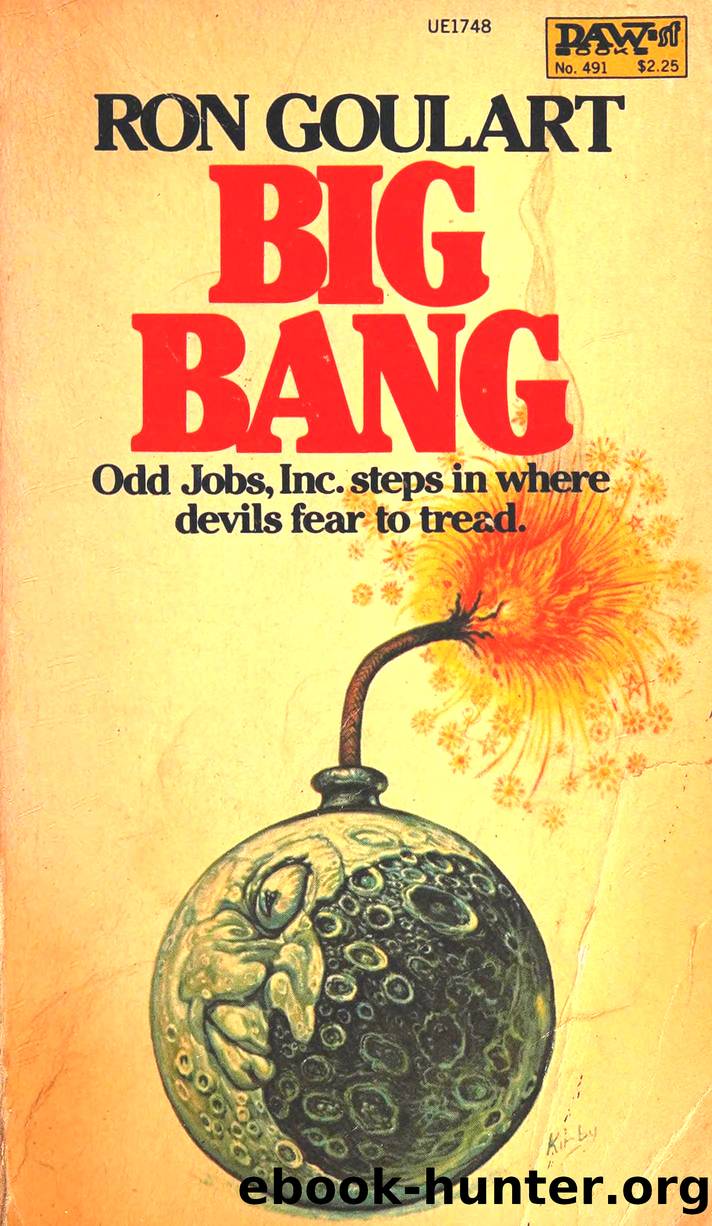 Author:Unknown Author
Language: eng
Format: epub
Published: 2022-06-15T00:00:00+00:00



CHAPTER 12
Jake woke up.
He was in a room full of smog and the glaz walls all around him were shaking and shuddering. A mighty rumbling sounded beneath him and everything in the big hazy tower, including his teeth, rattled wildly.
"Landsakes, look after the body! Golly whiz!"
Jake decided he was still alive and, therefore, was not the body being talked about. He remained sprawled on the spunglaz Persian carpet, his body bouncing and undulating in time to the hearty earth tremors.
Smog got in his eyes and nose. He sneezed and sat up. "CalSouth," he muttered, recognizing the smell of the foul air.
The earthquake had, obviously, futzed the aircirc system and some of Greater Los Angeles's foul air was seeping in from outside this business tower.
The walls were chattering less, the wide floor was whumping at less frequent intervals.
Jake tried standing and succeeded.
He found himself in a vast meeting room, up some fifty or sixty floors above the late afternoon heat of die Santa Monica Sector of GLA.
A huge licorice-shade plaz oval meeting table floated at the center of the room, surrounded by thirteen lime-green bizchairs. At the head of the table there was, instead of a chair, a glaz coffin mounted on two neowood sawhorses. Inside you could see the portly body of a white-haired man of sixty-four. He wore a conservative two-piece grey bizsuit and his hands were folded across his middle.
Seated nearest the coffin, with one sharp elbow resting on the table, was a lean, dark woman decked out in bright Gypsy garb and laden with massive golden earrings and many bright glittering bracelets.
A handsome, deeply tanned man in a one-piece tennisuit stood near to the slightly swaying coffin, seemingly listening to it with a highly polished stethoscope.
"Golly whiskers, I can't get this dam aircirc to work at all." A pudgy young man of forty was flicking toggles on a wall panel near the far doorway. "Oh, hello, Mr. Pace. Mercy me, forgive us for being at sixes and sevens. These darned quakes play hob with everything."
Pace took a few steps in his direction. "Who might you be?"
"Well, golly, I might be the Chairman of the Board or I might be the Chairwoman," he answered with a boyish smile. "It depends on several variables."
Jake sneezed,once again. "Well, who are you as of this afternoon?"
"Bunny's what you call a switchsexual," said the handsome man beside the coffin. "He is always Bunny Thrasher, heir to the entire Foodopoly empire. I'm Dr. Collin Willbarrow, sixth seeded Medical Tennis Player in the West."
"Congratulations," said Jake. "Who kidnapped me and had me teleported westward?"
"Oh, golly willikers." Bunny gave up on trying to clean up the smudgy brown air. "We only want to consult you, my daddy and me."
Jake seated himself at the table. Being knocked out so much on this case was taking its toll. "That'd be your pop in the glaz box?'
'
Bunny made his way over to the big table. "He's D.W. Thrasher." He pointed proudly at the contents of the coffin. "One of the great business brains.
Download


Copyright Disclaimer:
This site does not store any files on its server. We only index and link to content provided by other sites. Please contact the content providers to delete copyright contents if any and email us, we'll remove relevant links or contents immediately.