Battlestar Galactica: Original Series Continuation - 05 - Paradis by Richard Hatch;Brad Linaweaver
Author:Richard Hatch;Brad Linaweaver , Date: April 9, 2021 ,Views: 19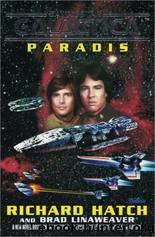 Author:Richard Hatch;Brad Linaweaver
Language: eng
Format: mobi
Tags: Science Fiction, General, Media Tie-In, Fiction
ISBN: 9780743474412
Publisher: I Books
Published: 2003-07-22T07:00:00+00:00



Chapter Thirteen
President Tigh had a pet. He'd found it all by himself. Lately he'd been very careful not to accept gifts from any well-wishers, mostly because he doubted that anyone was wishing anyone else well right about now.
So if he wanted a pet, the best plan of action was just to find it on his own, especially now that he was a gentleman farmer on his small, private, safe, secluded little estate with the lovely garden in the back.
The trouble was that no one seemed willing to respect that the estate was private or safe or secluded. At this rate, Tigh would have to go back to his presidential quarters aboard the battlestar so that he could have some privacy. There were fewer avenues of access aboard a spaceship. On a planet, ye olde mudball, there were too' many ways of sneaking up on a man who was just trying to grow a few fruits and vegetables and mind his own business.
So he'd found himself a pet. He'd intended for the critter to be a fierce watchdog, a guardian of its master's solitude. A Gamon showed him how to trap one of the blooies when it was only a pup. Tigh made up the name because he couldn't pronounce the Native word. The animal made a sound like bleweeeeee when it was hungry.
The fierce snout and big teeth were misleading. The big floppy ears were more indicative of the animal's demeanor. It had a tongue as long as a man's arm and loved nothing better than licking anyone in sight.
Tigh's only hope was that Cyranus (he named it after a galaxy because of its galaxy-sized heart) would scare off unwanted visitors by making its sound. The blooie was always hungry and the sound was startling on first contact.
So far no one had been scared away. This disappointed the president because every visitor wanted to talk about one subject: the impending war with the Gamon. Whether pro or con, that seemed to be the only subject.
Tigh hoped that just one visitor might care to discuss the properties of red sunlight on a new berry he had developed in his copious lack of free time.
Athena could be a pain in the ass when she was in a good mood. Everyone knew that, herself most of all. But when she was royally pissed off, the best course of action was steer a course as far from her perfectly shaped chin as possible, lest someone be inspired to strike a fist against that chin and spoil its beauty.
Starbuck was a brave man. He almost didn't know the meaning of fear—almost, because he wasn't really an idiot. But his relationship with Apollo's sister had pushed the envelope further than he liked.
He was late for a meeting with Athena. That was bad. She'd expected him on the bridge of the Daedelus
, her center of power and authority. That was worse.
But he didn't know the actual terrible part. She had a mission for him. And the time factor was important.
Download


Copyright Disclaimer:
This site does not store any files on its server. We only index and link to content provided by other sites. Please contact the content providers to delete copyright contents if any and email us, we'll remove relevant links or contents immediately.