Adoniram Judson: Bound for Burma (Christian Heroes: Then & Now) by Janet Benge & Geoff Benge
Author:Janet Benge & Geoff Benge [Benge, Janet & Benge, Geoff] , Date: June 3, 2020 ,Views: 29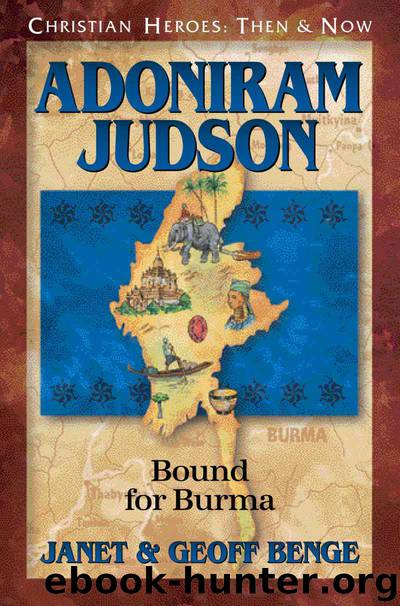 Author:Janet Benge & Geoff Benge [Benge, Janet & Benge, Geoff]
Language: eng
Format: epub
Tags: Biography, History, Non-Fiction, Childrens
ISBN: 9781576581612
Amazon: 1576581616
Goodreads: 600095
Publisher: YWAM Publishing
Published: 2000-01-01T00:00:00+00:00



Chapter 12
The Voyage to Nowhere
It was December 1, 1817, and Adoniram was halfway through his early morning walk around Rangoon when he stopped dead in the middle of a muddy street. "Why didn't I think of it before," he laughed out loud to himself. "Of course. That's the answer."
Adoniram hurried home to Ann, the idea percolating in his head as he walked. "Ann, I have the answer!" he called as he walked into the courtyard of the mission house.
"To what?" Ann called back from the other end of the house.
"To the problem of being Burmese and being a Christian."
Ann walked into the courtyard and gave her husband her full attention.
"Remember the letter we received last week from William Carey?" asked Adoniram.
Ann nodded.
"In the letter Carey said there is a handful of Burmese Christians living in Chittagong. Well, I've been thinking. What if I were to go to Chittagong and invite one or two of these Christians to join us in Rangoon. They could preach and answer questions. Surely then the people here couldn't argue that it's impossible to be Burmese and a Christian. We would have a Burmese Christian to introduce to them and prove them wrong."
Adoniram watched as his wife's eyes shone. "It's a wonderful idea," Ann said. "Just what the Burmese people need to see. And now's a perfect time to go to Chittagong. The Houghs are here to help run the mission. And a sea voyage is just what you need to give your eyes a rest," she added.
"Yes," said Adoniram. "It won't be easy, though, finding a ship going that way, but I'll start looking."
Adoniram began keeping a close eye on ships coming and going from Rangoon, hoping to find one headed for Chittagong, a small seaport at the northern end of the Bay of Bengal, about two hundred miles east of Calcutta and fifty miles west of Burma's border with India. Since Chittagong was so close to Burma, many Burmese people from the neighboring province of Arakan lived there. A Dutch missionary had also taken up residence there and was busy sharing the gospel with these Burmese people.
With favorable winds, it normally took about two weeks by ship to get to Chittagong from Rangoon. Adoniram hoped to find a ship headed northwest to Calcutta that would make a detour and stop in at Chittagong so that he could disembark. Once he had convinced one or two of the Burmese Christians there to return with him, he would search for a ship that could bring them all back to Rangoon.
After a week of looking, Adoniram could hardly believe it when the Two Brothers sailed into Rangoon. The Two Brothers was apparently about to make a round trip to Chittagong, something he had never heard of a ship doing from Rangoon before. Surely, he told Ann, this was God's way of telling him now was the right time to go.
On Christmas Day 1817, the Two Brothers hoisted sail and headed off down the Rangoon River bound for Chittagong.
Download


Copyright Disclaimer:
This site does not store any files on its server. We only index and link to content provided by other sites. Please contact the content providers to delete copyright contents if any and email us, we'll remove relevant links or contents immediately.