A Mythology of Forms by Carl Einstein;
Author:Carl Einstein; [Einstein, Carl] , Date: May 6, 2021 ,Views: 49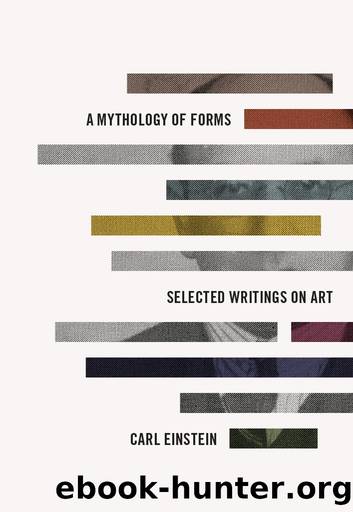 Author:Carl Einstein; [Einstein, Carl]
Language: eng
Format: epub
Tags: ART000000 Art / General
Publisher: University of Chicago Press
Published: 2019-12-26T00:00:00+00:00



Now we offer a short sketch of the work of this protean painter and tell the story of his inquisitive mind. Since we no longer conceive of the world as a finished work of divine perfection but as something unsettled, in progress, and open to question, we are obsessively curious as to which law and tradition will be overturned and refuted tomorrow.
These are the rough dates of this multifaceted oeuvre: Picasso was born in 1881 in Málaga. He paints even as a child. At the age of twelve he does a portrait of his parents; it shows speed of execution and precocious skill. In Paris he begins to paint the poor; compact as paintings, sentimental in attitude, almost a tendentious art, a sweet classicism. One may invoke Lautrec, yet this aristocrat appeared more distanced, superior. Contour becomes somewhat angular and flatter in Picasso's Ironing Woman, the Beer Drinker, the Soup Eater. Division of planes begins; nothing betrays impressionist influence. There is a push toward composition; this is how he paints The Soup in 1903, in 1904 the Crouching Jugglers, in both cases mother and child. Blue dominates these pictures. One may perhaps be reminded of Picasso's later large figurative pictures after the war. Still he is given to sentiment, stressing gesture and living in the quiet allegories of the symbolists. Everything rides on the sentiment of the figure; the soup bowl, the absinthe glass are used symbolically. A touch of Spanish pathos. Nevertheless, the instinct for composition surprises. From the tearjerker one comes to the quiet world of the harlequins. Poor suffering devils, pale in thin blues, quiet in gray tones, emaciated in languid rose; drawn with lyrical fragility. In his Mardi-gras Cézanne still painted Pierrot and Harlequin like an apple and a banana; humans as still life. Later Picasso will take up these themes anew, yet unsentimentally, untendentiously.
1907: beginning of cubism. He paints Les demoiselles d'Avignon. One has dubbed 1908 the negroid year and with that wanted to suggest a geographical cause for the attempt at planar representation of the cubic. Picasso rejects the link to Negro art: "J'en connais pas." Farewell to symmetry; he renders figures articulated in planes, their contrasts honed with chiaroscuro. Even more strictly does he avoid the colorism common at the time, restricting his hues to grays and browns. A sense for the plane is gradually achieved. Picasso's phases now follow logically. He attempts the large figure. What is given in nature is reduced to simple formal entities. Apollinaire called this "instinctive cubism"; it undoubtedly dominates most of today's painting. Picasso and Braque gave their needy colleagues formal means and challenges from which they themselves later turned away. A tectonic pathos began, which swept up all who had absorbed Cézanne. One constructs nudes out of simple parts of light and dark that abut one another at sharp angles. The years 1908 and 1909 bring figures and heads of this kind (fig. 7.1), as well as the landscapes of Horta. Out of Cézannesque modeling a
Download


Copyright Disclaimer:
This site does not store any files on its server. We only index and link to content provided by other sites. Please contact the content providers to delete copyright contents if any and email us, we'll remove relevant links or contents immediately.