A Caravan Like a Canary by Sasha Wasley
Author:Sasha Wasley [Wasley, Sasha] , Date: August 6, 2022 ,Views: 4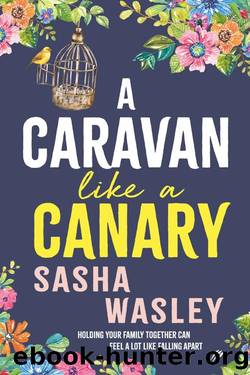 Author:Sasha Wasley [Wasley, Sasha]
Language: eng
Format: epub
ISBN: 9780648987512
Publisher: Pantera Press
Published: 0101-01-01T00:00:00+00:00



Age 17
I checked the mail several times a day, waiting for my exam results. I thought I'd done okay – I would most likely get into uni – but nothing could change until I had that letter.
I had a job at the local supermarket now, and in the lead-up to Christmas I was getting plenty of shifts. Saving money. I divided my time between the supermarket and the letterbox. I kept my music to a reasonable volume these days and didn't scream or slam doors anymore, but that was all a cover because, inside, I simmered. Constantly.
I looked at the tan carpet and hated it. I stared at the television while Nan watched Family Feud and hated that too. If I could have punched Grant Denyer in his grin, I would have. I hated the thud of Zac's bare footsteps on the floorboards and the drip of the kitchen sink into an empty yoghurt tub because Nan saved the water for her shade house plants. I placed my hand onto my bedroom window and wanted to push until it broke. I even gazed at Nan's canaries and lovebirds with silent fury, fantasising about leaving the aviary door open.
Nan, Mr Hazelby, the school chaplain, they all thought I'd finally grown out of it. They thought it was gone – the anger. But it was still there, pushing me. It had helped me study for my uni entrance exams, helped me learn to drive, helped me do chores around the house, helped me track down Zac when he was out getting into mischief. Helped me ignore his mates as they begged me not to make him leave whatever party or park they were in, getting smashed or high.
I'd perfected it. I loved my nan, I knew she was a good woman, but I hated her anyway because I hated everything in this life. I loved Zac more than my own heartbeat and I still hated him from the darkest place in my soul because he'd been damaged by this life, too.
The hate drove the plan. The plan was to get away from Nan's place before Mum got out of prison in the next few months, because she would want to see me, and I couldn't see her. Mum had caused all the crazy in my life, and since they locked her up I'd been eliminating every bit of crazy I could – except for Zac because I had to look after him, always. But every other morsel of crazy had been banished.
Once the plan was in place, I could breathe again. I would have air and space to build a new life. A chance to make something good and strong from the scarred little girl skulking inside me.
Download


Copyright Disclaimer:
This site does not store any files on its server. We only index and link to content provided by other sites. Please contact the content providers to delete copyright contents if any and email us, we'll remove relevant links or contents immediately.