Wyn1 The Lost Duke of Wyndham by Julia Quinn
Author:Julia Quinn , Date: August 4, 2021 ,Views: 43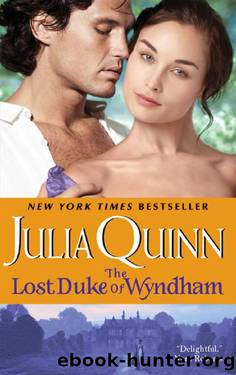 Author:Julia Quinn
Language: eng
Format: azw3, epub
Published: 0101-01-01T00:00:00+00:00



187
pulled her to him, he awakened something within her.
No. It had been awakened two nights earlier. On
that moonlit night, standing outside the carriage,
something had been born within her. And now . . .
She sat upon her bed, wanting to bury herself in
the covers but instead just sitting there, staring at the
wall. There was no going back. One couldn't ever not
have been kissed once the deed was done.
With a nervous breath, maybe even a frantic laugh,
she covered her face with her hands. Could she pos-
sibly have chosen anyone less suitable with whom to
fall in love? Not that this was the measure of her feel-
ings, she hastened to reassure herself, but she was not
so much of a fool that she could not recognize her
leanings. If she let herself . . . If she let him . . .
She would fall in love.
Good heavens.
Either he was a highwayman, and now she was des-
tined to be the consort of an outlaw, or he was the true
Duke of Wyndham, which meant—
She laughed because really, this was funny. It had to
be funny. If it wasn't funny, then it could only be tragic,
and she didn't think she could manage that just now.
Wonderful. Perhaps she was falling in love with
the Duke of Wyndham. Now that was appropriate.
Let's see, how many ways was this a disaster? He was
her employer, for one, he owned the house in which
she lived, and his rank was so far above hers as to be
nearly immeasurable.
And then there was Amelia. She and Thomas cer-
tainly did not suit, but she had every right to expect
that she would be the Duchess of Wyndham upon her
188 Julia
Quinn
marriage. Grace could not imagine how crass and
overreaching she would appear to the Willoughbys—
her good friends—if she were seen to be throwing
herself at the new duke.
Grace closed her eyes and touched the tips of her
fingers to her lips. If she breathed deeply enough she
almost relaxed. And she could almost still feel his
presence, his touch, the warmth of his skin.
It was awful.
It was wonderful.
She was a fool.
She lay down, let out a long, weary breath. Funny
how she'd hoped for change, for something to break the
monotony of her days attending to the dowager. Life
was a mocking sort of thing, wasn't it? And love . . .
Love was the cruelest joke of all.
"Lady Amelia is here to see you, Miss Eversleigh."
Grace jolted upright, blinking furiously. She must
have fallen asleep. She could not recall the last time
she had done so at midday. "Lady Amelia?" she
echoed, surprised. "With Lady Elizabeth?"
"No, miss," the maid informed her. "She is alone."
"How curious." Grace sat up, flexing her feet and
hands to awaken her body. "Please tell her I shall be
right there." She waited for the maid to depart, then
went to her small mirror to straighten her hair. It was
worse than she'd feared, although she could not be
certain whether it had been mussed in sleep or by Mr.
Audley.
She felt her skin flush at the memory, and she
groaned at that. Gathering her determination, she re-
The Lost Duke of Wyndham
189
pinned her hair and left
Download


Copyright Disclaimer:
This site does not store any files on its server. We only index and link to content provided by other sites. Please contact the content providers to delete copyright contents if any and email us, we'll remove relevant links or contents immediately.