Written in time by Jerry Ahern
Author:Jerry Ahern [Jerry Ahern] , Date: July 12, 2022 ,Views: 10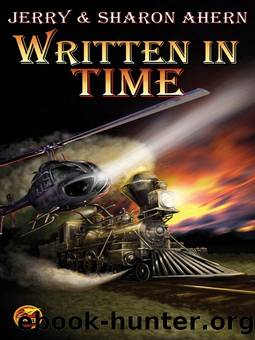 Author:Jerry Ahern [Jerry Ahern]
Language: eng
Format: epub
Tags: SF
ISBN: 9781439133996
Published: 2010-10-13T07:00:00+00:00



CHAPTER
TWELVE
Ellen was up and riding before full dawn, the heavy gray clouds, high and moving fast, made blue in patches by the infusion of the first tentative rays of sunlight from below them. The morning was cool, the air clean. Despite being chilled to the bone—after decades sleeping beside Jack, she was ill-used to sleeping alone—and having to take care of the obvious bodily functions without even so much as a chamber pot, she felt refreshed. With the wind in her face as it was, its freshness stinging her skin, she could have felt no other way.
She'd wiped off her Colt revolvers and her knife, checked her tack, saddled up and ridden off. Neither Ellen nor her husband was usually a breakfast eater, and she hadn't wasted the time this morning, either. But when she made her first stop to rest her horse, her body was telling her that it was lunchtime even though it was merely a little after nine. She ate half a sandwich, the bread slightly damp.
Always a voracious reader since girlhood—she'd devoured all the great Russian novels before entering her teens—Ellen Naile had often found that some seemingly trivial detail she'd read in years past might be extremely handy to recall. As she spotted a string of horse turds on the ground ahead of her, she slowed and dismounted. Finding a stick wasn't the easiest thing to do in certain parts of Nevada, but in these higher elevations toward which she climbed there was ample vegetation. She was not about to use her fingers or even the blade of a knife for what she intended to do. Using her knife, Ellen Naile stripped an inch or so of bark from one of the twigs, then whittled the exposed wood into as abrupt an edge as she could manage. It would probably cut less well than a plastic knife at a picnic, but would be adequate to her purpose. Using the second twig to hold the largest of the lumps of equine fecal material steady, she cut through it with the sharpened twig.
Had it been the roasting hot days of summer, her experiment would have been easier to interpret. But the interior of the horse poop she examined was of essentially identical consistency to the exterior. Regardless of weather conditions, that meant that a horse had defecated here relatively recently. Considering the heavy rain of the night before, had her find dated from any time before morning, it would have been malformed at least, perhaps partially dissolved.
Ellen was following an animal that had passed this way since around dawn. Discarding the twigs and taking the reins of her horse from beneath her foot (where she'd held them secure while engaging in her research), she began walking forward, eyes scanning the ground. With the earth still damp, she didn't have to walk more than a few paces before finding what she sought: two fresh sets of hoofprints over hoofprints nearly washed away.
It seemed likely to her that she
Download


Copyright Disclaimer:
This site does not store any files on its server. We only index and link to content provided by other sites. Please contact the content providers to delete copyright contents if any and email us, we'll remove relevant links or contents immediately.